Waterfalls? Bottled water? Torry Pedersen's take on Newsroom Integration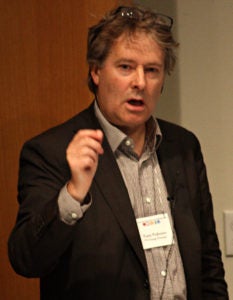 Is newsroom integration working? Not for VG online Editor-in-Chief Torry Pedersen it isn't. (VG online is Norway's most profitable and most read news site) Should it work? According to Pederson, no again.
Pedersen offered some very interesting percentages to back up his argument. Out of the 4.8 people in Norway, newspapers reach 52 percent of them each day, meaning more than half of the entire country is reading the news in print or online every day. Fifty-five percent of the daily readers do this digitally. Forty-two percent of the ad revenue is digital and 39.5 percent of the profit is digital. VG online receives 9.3 million unique views each month and is entirely separate from its corresponding newspaper.
Pederson then took his demonstration a step further by offering some very interesting comparisons. He first compared newspapers and the Web to ski and snow, showing two very different types of skiers and explaining that though they both use the same tool and delivery mechanism, snow, their form is still different. The same can be said for newspapers and the Web, he said. "There is an urgency for product development in newspapers, however, the Web is developing by the day. The format is different."
He then compared newspapers and the Web to a bottle of water and a waterfall. The waterfall represented the Web– it continually flows, raw, unlimited and in real time. The bottled water represented newspapers– limited space, distilled, refined and bottled. An excellent comparison in my opinion.
Pedersen continued to argue that you simply cannot be the best at producing newspapers and online content simultaneously. He coined the term "the best friend mode" in which you have "integrated separation." "You could be in the same flat but [the two] should be structured differently."
Another good point he made was by explaining how a newspaper editor might say, "Don't publish, I might need this for tomorrows paper!" And how the online editor would say, "Publish now!"
Bottom line: Global organizations should not integrate because the structure and format of the two are entirely different.
Follow Torry Pederson on Twitter (though you will have to translate the text!)
ISOJ 2009: Newsroom Integration panel, from Knight Center on Vimeo.