A look back at 10 years of the symposium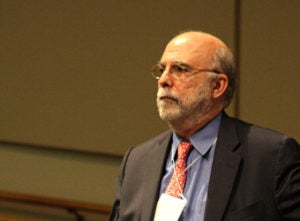 UT journalism professor and Knight Chair Rosental Alves started by showing a video of himself from the first International Symposium on Online Journalism, sans beard, and made sure the mood was light.
"It was a time that I was trying to let people know that my children weren't my grandchildren, so I took off the beard," Alves joked.
Alves was quick to point out that many of the issues discussed in the first symposium are still in play today.
"Most of the issues we had in the program [in 1999] are very similar to the issues we have now. One lesson that we learned after the bubble of the Internet: the main mistake of thinking that things would change very fast. Even in a revolution, there are evolutionary processes. It's no surprise 10 years later we're talking about the same issues: is this a business, should we integrate or not…"
Gerry Barker from the Palm Beach Post in Florida discussed the publication's unbridled optimism in 1999 about the possibilities of the Internet via a discussion of implementing a process for web registration for the paper. That optimism didn't last long, and in 2009 we are in a "world turned upside down."
"Let's look at the next 10 years," Barker said. "We get to do the prediction thing. But you know, predictions are hard to predict."
Barker made some bold, but realistic and intelligent predictions, including: – Targeting will continue to dominate advertising. "The advertising will come to us, we aren't going to it. Tom Cruise in Minority Report pretty much had it right." – "This is the end of the beginning, rather than the beginning of the end" – Ken Doctor, Industry Analyst – "The most successful companies will be the ones that harness creator instincts, and the biggest winners will be the companies that harness the smallest creative acts." – Paul Saff, Futurist
"Be a risk taker," Barker said in closing. "Don't be afraid to fail."
ISOJ 2009: Ten Years of the Symposium panel, from Knight Center on Vimeo.