Women lead independent digital media in Latin America, but this isn't the case in traditional media
This panel was a part for the 13th Ibero-American Colloquium on Digital Journalism held in 2020. To watch this panel and others of that day, click here.
About 40% of native digital media in Latin America is founded or directed by women, said Ana Arriagada, citing a 2018 SembraMedia survey, during the 13th Ibero-American Colloquium on Digital Journalism. Arriagada, co-founder and executive director of the Chilean outlet El Soberano, was the moderator of the panel "Female Leadership in Media in Latin America. ¡Ya es tiempo!" on July 25.
Arriagada stated that female leadership in digital native media in Latin America is "a very encouraging fact," but it needs to be put into context, since most of these media outlets are small. The panelists also highlighted the need to go beyond these digital media outlets and expand the number of women in decision-making positions in traditional media outlets in the region.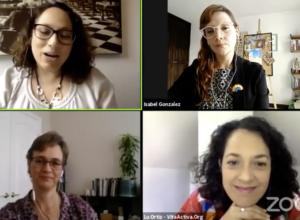 Isabel González, ambassador of Chicas Poderosas Ecuador, says that the media ecosystem in the region has changed completely in the past ten years.
"Today we have a lot of media that, in addition to being started and directed by women, they also make a commitment to an even epistemological change by calling themselves feminist journalists or feminist media," she said.
According to her, these types of media outlets helped bring topics that were secondary in traditional newsrooms to the forefront, such as abortion and femicides.
Dagmar Thiel, the U.S. Office Director of Fundamedios, also highlighted how issues that are related to women are invisible in the traditional press or written about within the kitchen and beauty sections, which reinforced gender stereotypes.
"They are not seen as linked to economics, scientists, political analysts, or that they are creating a model for young girls that steers away from those traditional roles," she said.
For her, making this type of coverage more diverse necessarily means having more women in leadership positions in the traditional press. "This cannot be relegated to those fantastic media, those 40 percent founded by women, which are alternative digital media, with a smaller and non-traditional audience," she said.
Lu Ortiz, co-founder of Vita-Activa.Org, said that women journalists are also harmed because they are seen as fragile and not allowed to work on news coverage that is deemed risky and heavy. "We know very well what we are contributing, we know very well the cost of journalism, but it is a cost that we must all share equally. Our covers should not be with a scent of flowers," she said.
Ortiz points out that addressing these gender inequalities is one of the "major social, political and economic reforms" that we need to implement. "Basically it is not a legal issue, human resources or organizational culture, it is about justice, inclusion and democracy," she said.
The speakers reinforced the importance of promoting real diversity in newsrooms, as opposed to what Arriagada called "a little fake diversity".
"There is an exploitation of diversity for the benefit of the environment. What do I mean? That we have the Indigenous colleagues covering indigenous issues, in the United States there is the racial issue [and] we put in front all the Black colleagues who work to demonstrate that our environment is super diverse," Arriagada said.
On this matter, Thiel pointed out that true diversity also involves paying equal wages for men and women in the same positions, in addition to accepting the different ways women look. Especially on television, she said, journalists are often seen as a "vase" with the purpose of embellishing the image.
"They think that men age seriously, so they look very well on television with their gray hair, and that women have an expiration date. While there are many more women in the media today, what role do they play? It can't be the vase … We must begin to normalize an image of women as we are, without discrimination not only of gender, but of age and appearance," Thiel said.
Speakers also discussed the importance of creating newsroom models that consider female leadership styles and the needs of journalists who are mothers. Policies must be created so that motherhood is not "that strange thing that happens to women," said Thiel. "There needs to be specific policies that allow this sustainability and integration of a role that women have biologically and the capacity to grow professionally," she concluded.