MSN UK focuses on new advertising models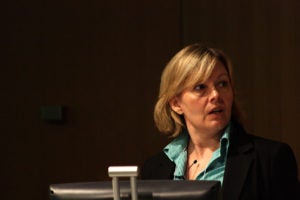 Online news site may need to work more closely with advertisers in order to flourish in the current economic climate. Katie King, creative and development editor of MSN UK, explained some of the new advertising strategies her company is testing. She said that in the UK, MSN remains the most popular online portal. Despite the current industry slump, the company saw record months in January and February.
As the creative editor, King said she is responsible for a new advertising product. The company works more closely with their adversitising clients to make new campaigns, called ad-funded creative solutions.
She noted a recent ad drive for an automobile company that allowed users to navigate through an online world in the car. She also mentioned the growing interest in using Xbox for other ad campaigns.
But she said one of the main attractions that draws in advertisers is the ability to track users very closely in order to measure how the experience is performing.
King said the audience overseas has been responsive to the company's new developments. She mentioned the popularity of Hotmail and MSN Messenger.
"People get excited when I say I work for MSN UK," King said.
The fact that the portal is based in London, makes the company more flexible with original content and able to cover breaking news within the city, she said.
In the past year, the company has focused on increasing the amount of original content and online videos. She said the drive increased her staff by about 30 percent, and she now supervises 35 editorial staff members.
"It's a huge operation. Not a lot of resources, but we're doing well," King said.
She said the company constantly faces the challenge of keeping up with new online tools, as well as reinforcing the basics of online journalism with editorial writers.
All 35 staffers blog for the company and have been immersed in platforms like Twitter. She said not all the staffers like blogs and Twitter, but by not forcing a certain style and instead letting her writers develop their own voice, the tools have started to grow on her staff.
She ended saying companies should not try to force certain online strategies, especially in news.
"Do what you do best, and link to the rest," King said.
ISOJ 2009: Diverse Business Models panel, from Knight Center on Vimeo.