Build local news sustainability through collaboration and nonprofit funding, ISOJ panel tells crowd
Small for-profit and nonprofit newsrooms around the country are searching for ways to build a sustainable business model, while still delivering high impact journalism to their surrounding communities. 
Exploring the ways in which newsrooms can engage in these sustainability efforts was discussed during ISOJ's April 15 panel "The local news movement: Philanthropic investments to networks and tools to create sustainable models." Moderated by Jim Brady, Vice President of Journalism at the Knight Foundation, the panel delved into how collaboration with nonprofits and media organizations that support financial, technological and expertise optimizations can help journalistic entrepreneurs build their business, while still maintaining high editorial standards.
"We're talking about the two- to three-person newsroom that are operating mostly led by journalists who might not even think of themselves as businesspeople, entrepreneurs," said Erin Millar, co-founder and CEO, Indiegraf. "And I really believe that figuring out how to grow these newsrooms at scale represents a generational opportunity to transform local news for community benefit."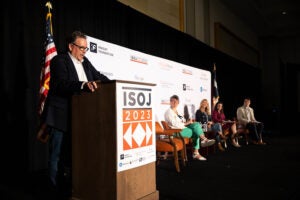 Indiegraf, a network of small and startup community news outlets, is a one-stop shop for publishers to get their businesses off the ground and running. By providing easy, cheap access to the journalism industry's best financial and technological practices, such as creating an online content management system or setting up email service providers, Indiegraf enables small newsrooms to access vital resources that will help sustain community journalism.
Similarly, nonprofit News Revenue Hub aims to cultivate robust community news organizations through financial literacy support for journalistic entrepreneurs. For example, News Revenue Hub collates data on over 70 newsrooms to help small publishers understand how they are establishing customer loyalty, building email lists, and converting and retaining donors. 
"It's really that blend of newsrooms working collaboratively together, admitting they don't have it all figured out," said Mary Walter-Brown, founder and CEO of News Revenue Hub. "That we all have to continue to stay at the forefront of change."
Through sharing best practices across the network, small newsrooms can effectively learn about new, innovative strategies to maintain journalistic and economic stability.
For small nonprofit news organizations, monetary gifts from local donors is key. In News Revenue Hub's audience survey, "We pointedly asked them, 'What can we do to get you to invest in these newsrooms?'" said Walter-Brown. "We really want to know what it takes to get the public to voluntarily open their wallets to support journalism." 
According to Walter-Brown, creating two-way communication with news outlets and their readership is key to cultivating long-lasting, sustainable readership and plentiful sources of funding.
Small newsrooms across the country are oftentimes serving underrepresented, rural communities that, without their newsroom, otherwise would not have access to local news. Alana Rocha, Rural News Network editor at the Institute for Nonprofit News (INN), spoke to this important function of small newsrooms in rural areas. The Rural News Network, which includes 71 members across 46 states is a "way to highlight the representative journalism that's happening in small communities … and help them sustain and change the conversation around misconceptions out there," Rocha said. The Rural News Network builds access and trust to local news networks by stressing editorial independence and transparency through their extensive library of playbook resources and templates for training, revenue streams and philanthropic funding.
Raising philanthropic capital at the local and national levels is one of the key objectives of the venture philanthropy American Journalism Project, according to the SVP of Strategy and Startups Michael Ouimette. 
"We focus on investing on the business and operations side of local news organizations," said Ouimette. "In the hopes that after three years of being on staff the revenue generating roles that we fund are not only able to fund their own costs but also contribute back into newsrooms and operating reserves contributing to sustainability." 
By relying on intensive funding and technical expertise from staff, partners and members, the American Journalism Project hopes to continuously grow news organizations' annual revenue.
Collaboration is key
The reliance on expertise and best practices is a result of not only inter-network collaboration within these nonprofit media organizations, but also intra-network collaboration. For example, INN, News Revenue Hub, Indiegraf and the American Journalism Project have at one point worked together to find solutions. "We are all coming at this from a mission driven standpoint," Walter-Brown said. "Instead of being competitors, we are all trying to look at each other as allies."   
Within the United States, there are a variety of interesting service providers, vendors, associations that — due its large volume — can be overwhelming to publishers, according to Millar. What organizations like Indiegraf strive to do is make this marketplace less complicated and all-consuming for publishers.  "There's lots and lots of room to solve problems in this space," Millar said. "The conversation in the last year has really improved as well and we're having those conversations more." 
Transparent collaboration does not stop at sharing best practices; effectively communicating to the industry and communities how funding is allocated within these nonprofit media organizations is critical to building trust among readers and reporters. Staff at organizations like the INN go through a rigorous vetting process, according to Rocha. For small newsrooms to run through their organization is simply "more efficient," said Rocha. "The money we're going to distribute is to good causes."
Not only understanding where nonprofits' money goes, but also understanding the impact of that investment, is crucial to deciding future investment. "Knight's focus is really on what we call 'outcomes over outputs,'" said Brady. "If that journalism doesn't have impact on your community that revenue doesn't matter. Are they producing journalism that is actually helping their communities?" 
Supporting community journalism that benefits financially from nonprofits' involvement while also producing high impact journalism is the ultimate goal.
"Hundreds of journalists/entrepreneurs are coming to the rescue in their communities, filling these [news] gaps, mostly risking their own personal finances to get started," said Millar. "These are literally democracy heroes."
Author's Bio: Gabrielle Beacken is a first-year PhD student in Journalism and Media at The University of Texas at Austin.