Cracking the code to successful video online: ISOJ 2018 panelist says it all starts with original content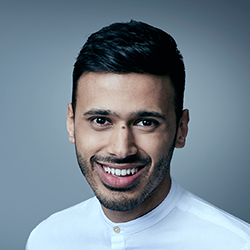 The future of video for news organizations may hinge on more original content, increasing interactivity and the eventual convergence of technologies like Virtual Reality, 360 and live video, says one participant in the Friday afternoon panel at the 2018 International Symposium on Online Journalism 2018 (ISOJ), "Video: Cracking the code for successful video online."
Yusuf Omar, co-founder of Hashtag Our Stories, is hoping the panel, which starts at 4:45 p.m., Friday, April 13, will mull over these topics as well as "the idea that the internet will start to reward and value original content."
The ISOJ video panel, led by Trei Brundett, chief operating officer of Vox Media, will also include: Selymar Colón, managing editor/senior director, digital news, at Univision; Kristie Gonzales, president and general manager at Austin broadcaster KVUE-TV; Imaeyen Ibanga, senior video producer and manager, AJ+; and Mindy Massucci from TicToc by Bloomberg.
Omar and Hashtag Our Stories is all about original videos, or what he calls "selfie journalism" in this TEDx talk. The organization strives to help people lacking a voice in mainstream media to tell their stories via mobile journalism, "empowering" the powerless to produce videos that engage audiences. "For us, engagement increases empathy," says Omar, who formerly worked for the Hindustan Times in India as a mobile editor and for CNN as a senior social media reporter on Snapchat.
For Omar, there "is very little to differentiate" between news outlets showing viral videos found "by fishing in the same social media pond." News organizations may acquire a citizen's video that has gone viral, fact check it then post it to their website as quickly as possible. "What incentive would you have to see either of them?"
Omar suggests news organizations will have to start developing more original content, perhaps material aggregated from their own niche audiences or by people "empowered" by the news outlet, rather than simply latching on to videos "bubbling to the top" of social media.
In addition, Omar is excited about the future, that perhaps by 2020 and the spread of 5G internet, technologies like virtual reality (VR), 360 video and live video will merge into one platform. "None of these have been Golden Gooses as stand-a-alone products," but together they could foster exciting avenues to engage users. Omar cites Facebook Spaces and other social virtual experiences where people can be involved in a virtual reality scene but also be live, talking to other participants.
He calls these technologies "building blocks" and says news organizations that have been experimenting with these blocks "will find themselves in a great position when it comes together, when we reach this new landscape and these new formats."
"Interactivity" is also key for Omar, precisely a switch from "thumb-stopping content" — video that is so enthralling the user will not want scroll ahead — to "thumb engaging" content whereby the user is encouraged to engage with the video, to thumb ahead and perhaps take a poll or submit a comment. He suggests this kind of change will mark a "fundamental shift" between traditional broadcast journalism and online video.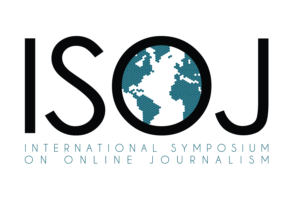 Omar will have esteemed company on the Friday afternoon panel, the last discussion of the day before the ISOJ reception, sponsored by the Knight Foundation and Facebook, in the Rappaport Atrium of the Blanton Museum of Art.
As managing editor and senior director of digital news at Univision, Selymar Colón has been involved in many big stories while embracing social media in the newsroom and overseeing digital-first videos.
As president and general manager of KVUE-TV, Kristie Gonzales heads a group of 120 journalists that helped the Austin broadcaster claim the top spot in the November 2017 ratings period for adults between the ages of 25 and 54 in the 5 p.m., 6 p.m. and 10 p.m. time slots.
Since joining Al Jazeera Plus in 2017, Imaeyen Ibanga and her team's video efforts have enhanced AJ+'s presence on YouTube, particularly with the informative "Because Facts" on Facebook.
Another veteran broadcast journalist with experience at CNNfn and Fox News Channel, Mindy Massucci is the head of content at TicToc by Bloomberg, which was recently nominated for three Shorty Awards.