Dallas Morning News executive editor talks about fostering community, connection and change through journalism
Journalist Katrice Hardy recently moved to Texas to become executive editor of the Dallas Morning News (DMN) after leading the IndyStar team that won a Pulitzer Prize in 2021. Hardy was at the 23rd ISOJ in conversation with Kathleen McElroy, director of the School of Journalism at the University of Texas at Austin, and spoke about her work and the challenges of local journalism amid the current wave of attacks on journalists.
She began her speech April 1 by commenting that in recent months she has experienced "more negativity and more criticism of staffers than I've ever experienced in my life" in her 26 years in the profession. She listed cases of online threats and harassment of colleagues at the newspaper motivated by their reporting. "It's pretty much an attack on democracy," she said.
Hardy posed the question of how leaders like her can help protect the journalists who work in the newsrooms they are responsible for.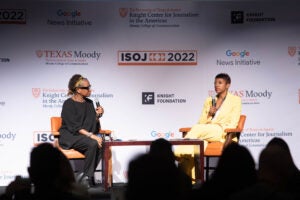 "At the DMN we beefed up security and we're trying to get some training for our journalists on how to navigate their lives on social [media], how to protect themselves, and we're also trying to build better resources and connections with our community," she said.
Another strategy in this sense has been to participate in various events in which the newspaper was never present. "I go out and I speak at churches, I attend galas. I try to impart upon our community the mission that we believe in and why whether you believe in the content we're writing or not, we're doing it for the greater good of all," she said.
"Community First"
At another point in the conversation, McElroy brought up a question from the audience about how Hardy would respond to "recent research suggesting that the public correlates storytelling with deception." The director of the UT School of Journalism added that when she was a young journalist, people avoided using the term "storytelling" or "story" to refer to news features, precisely for this reason.
"But now we are actively saying, 'Hey, what we do is storytelling with a purpose,'" McElroy said.
"Our lives are stories. We have to be able to connect the information in ways that our audience will read, telling the stories of the lives of those who we know, and who we don't know, shining a light on those places where things aren't working but no one knows," Hardy replied.
"And in fact, I think that the art of storytelling is factual storytelling. And so we have to just be clear again, go back to being transparent, reminding people of our purpose. Our vision at the DMN is we will inspire connection, community and change throughout North Texas for the next hundred years, but to do it and be the most trusted news source of doing so, I think we have to remind our readers of that or whatever your vision is."
McElroy then asked what percentage of community stories Hardy considers necessary to be told within the total content of a newspaper, considering the daily newspaper must cover various topics such as sports, business, etc.
"I think frankly the reason that many of us don't connect to larger audiences is because we don't start with community first. Having reporters having good sourcing, it starts with being out in the community," Hardy said. "Every great sports story, every great business story, it's a story about someone in your community. So I would tell you that a hundred percent of what we do must start with the community."
And that means having reporters on the ground, not just on the phone, McElroy added.
"Absolutely. Or on social now. That's a place to start. That's not where we end," Hardy said.