Tailor-made solutions for local news organizations help them achieve sustainability
As more local news organizations crop up, several resources and tools have also been developed to guarantee success, according to presenters at the ISOJ 2022 lunch workshop "Tools and resources for local news organizations," chaired by Karen Rundlet, a journalism program officer at the Knight Foundation. Speakers were Fernando Díaz, Emily Dresslar and Lisa Heyamoto.
In their work, Newspack, RevLab by Texas Tribune, and LION Publishers help news organizations achieve sustainability with tailor-made solutions, the lunch audience heard April 2 in Austin, Texas.
"It is the union of these three pillars: operational resilience, financial health, and journalistic impact," said Lisa Heyamoto, director of teaching and learning at LION Publishers. "Having two out of three would leave you broke, ineffective or burned out."
Heyamoto said sustainability is the destination for a local independent news organization, and LION Publishers leads the way.
"Our vision is a world where independent news organizations are providing equitable access to inclusive and impactful news and information," Heyamoto said. "We get there through our mission to provide teaching resources and community to independent news entrepreneurs."
RevLab director Emily Dresslar said she underestimated the amount of calls she would receive every day from startups, legacy media outlets, or from people just thinking about media, and where to start.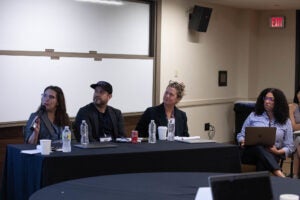 "We serve as wayfinders and help point people to the right resources," Dresslar said. "We are also really focused on the long-term sustainability that supports journalism."
RevLab works as a central team for news organizations, and is currently working with the Listening & Sustainability Lab, a partnership between American Press Institute and Racial Equity in Journalism Fund.
"We're also putting together a new statewide news-coverage collective," Dresslar said. "We share some unique challenges and probably some unique opportunities."
With content creation being a huge percentage of the work carried out in news organizations, Newspack offers a different approach to content management.
Newspack is an all-in-one publishing platform that incorporates industry best practices to help small and medium-sized news organizations produce great journalism, drive audience, and generate revenue. It's an advanced open-source publishing project of WordPress.com and the Google News Initiative.
"It's one thing to control costs. It's another thing to generate and grow revenue," said Fernando Diaz, a consultant for Newspack. "Newspack helps you do both. We are on the latest version of WordPress, using the Gutenberg editor and finding ways to not just make it a way of creating content but also inserting calls to action for newsletters, donations, and subscriptions campaigns."
Diaz said the platform hosts over 150 publications all over the world, and focuses on performance, reliability, and affordability. It also offers free migration from WordPress. Migrations take about three months.
"We build and buy. If our publishers tell us they need a tool, we work on building it," Diaz said. "If there's another tool that already exists, we'll buy the licenses so that publishers can use those at no extra cost to them."
Heyamoto said more than just identifying a problem or efficiency deficit, LION Publishers offers direct funding through its programmes and partnerships.
"Last year, we offered $600,000, and this year, we have already given $1.3 million," Heyamoto said. "Our revenue growth since 2019 is 555%. We have grown tremendously, because folks are really seeing the great need and the great opportunity in this space."
More than 60% of its 400 members are for-profit newsrooms, while the rest are nonprofits. Members focus on hyper-local reporting, from neighborhood, cities, counties to statewide, she said.
"Almost 80% of our member organizations have fewer than five full-time employees," Heyamoto said. "Fourteen percent have zero full-time employees, which means there is someone who is not paying themselves and is working very hard to deliver local news to their community."
The number of members who are founders of color, or serving communities of color, has also grown by 65% in the last year. "The median annual revenue for our members is $125,000 and that has grown by 33% since last year," Heyamoto said.
"Our most affordable tier is $750 a month. Our most expensive tier is $2,500 a month, which is way less than a full-time employee," Diaz said. "We just delivered a unified business intelligence dashboard, where the newsroom, marketing, business, and advertising departments can share important information."
RevLab is partnering with LION Publishers and News Revenue Hub to host the first-ever Independent News Sustainability Summit in Austin from Oct. 27-29, with support from John S. and James L. Knight Foundation.
"We hope to bring business and editorial leaders together to really push the needle on sustainability," Dresslar said. "We want them to walk out the door with three great things they're going to attempt in the next year to accomplish ways to support their journalism."
The LION-GNI Sustainability Audits and Funding program offers a comprehensive process for LION members to identify and respond constructively to roadblocks to sustainability within their organizations. LION's goal is to complete 100 audits by the end of 2022. In 2021, 55 audits were completed.
"We do that through a really robust questionnaire that gathers all of this really interesting data," Heyamoto said. "We also do really in-depth interviews with expert analysts who really dig into the results with the news organizations to reveal next steps."
Diaz also highlighted Newspack's Slack community and customer service.
"We are a publisher community, we are journalists, and we're building a system for journalists to have operational efficiency, whether they're in editorial, marketing, or engagement," he said. "You can probably find hosting for somewhat cheaper. But there's nobody else who's going to have that level of access and community to people who know exactly what you're trying to do."
With so many resources available to new and legacy newsrooms, these organizations hope to make the journey more efficient and fulfilling for all.
"Sustainability is about small strategic steps, not big, huge game-changing leaps," Heyamoto said.
From Lagos, Nigeria, Eniola Longe moved to the United States in August 2021 to pursue graduate studies in journalism and media at the University of Texas at Austin. After being called to the Nigerian Bar, she worked for one year in the legal field and decided to switch industries.