How newsrooms can address mental health and wellbeing: ISOJ 2023 workshop with Mar Cabra
Haga clic aquí para leer este artículo en español.
Mar Cabra sees an "inevitable mental health revolution" coming for journalism.
"To me, it's a similar transformation to when we had to start thinking of digital in the journalistic process," she said. "We're now adding one more element to take into consideration in the stories we generate: the health of the human that produces them."
As a step in that revolution, Cabra, co-founder of The Self-Investigation, will lead a lunch workshop on the topic at the 24th International Symposium on Online Journalism (ISOJ).
"How to operationalize mental health and wellbeing in the newsroom" will take place on April 14, in Spanish, and April 15, in English, during lunch. Registration is open only to ISOJ 2023 registrants and is required for the in-person English and Spanish sessions. Boxed lunches will be available.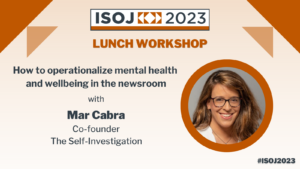 "It breaks my heart every time I see a journalist quitting the profession or having to put a temporary pause to their career due to the unhealthy practices we have in many newsrooms," Cabra said. "It's painful to see hundreds of colleagues suffering in silence because mental health is still taboo in many organizations and they can't speak up about how they're feeling."
So, this former data journalist makes a data-based pitch.
"Survey after survey, country after country, the data points to the same reality: Mental health has become one of the biggest challenges for journalists," she said "More than 60 percent of the media workers in countries as diverse as Canada, Spain and Ecuador reported high levels of anxiety in 2022. At least one in five reported depression. Levels of post-traumatic stress disorder and burnout are also on the rise."
"The picture is likely to get worse unless we do something about it from within our organizations," Cabra concluded.
But, there is hope.
"In 2023, I'm actually really excited to see that some newsrooms have decided to pick up the baton and are starting to address the issue systemically," she said. "I also know of several funders who are re-thinking the type of support they give to grantees to also preserve their wellbeing and mental health. And of many journalism associations now having well-being and mental health as an area they work on or create awareness about."
Cabra said she's seeing newsrooms put the recommendations of The Self-Investigation, a nonprofit organization that provides training and consulting on initiatives to improve media professionals' well-being, into action.
Examples include adding a traffic light check-in at meetings, building a team communications charter for digital communications, holding regular 1:1 meetings, reducing multitasking, creating protocols to deal with the impact of complex stories on journalist's mental health and creating circles of care as as a safe space for journalists to express how they are doing.
So, take advantage of this great opportunity to learn how to incorporate wellbeing and mental health approaches in your newsroom. Register for this excellent lunch workshop in English or Spanish today.