Innovating with a Press Cafe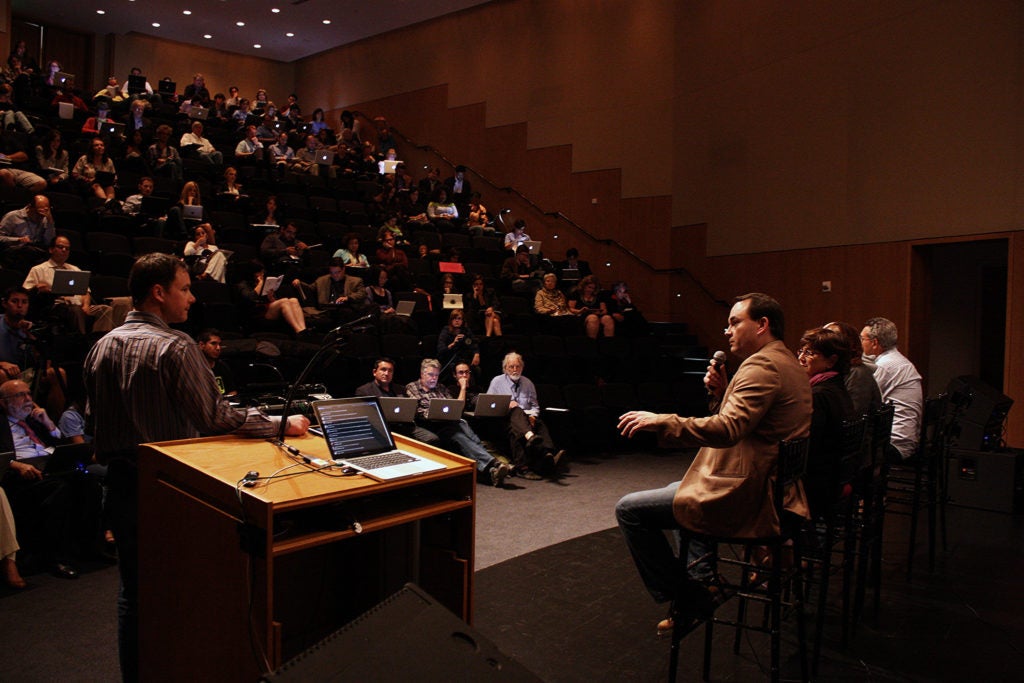 Mark Briggs, author of Entrepreneurial Journalism and director of Digital Media at KING 5, Seatle
"It's about making the money so you can support the journalism," Mark Briggs said.
Briggs said the historical wall between marketing and journalists is no longer present.
He said it might not have been a vacuum, but it's the selling of an idea that is important with entrepreneurial journalism.
"It wasn't the idea, it was the execution," Briggs said of Facebook.
Failure is not a big part of the journalistic culture, but entrepreneurial journalists must be comfortable with it.
"If you do fail, you have to take what you can learn from it and move on," Briggs said.
He said partners in a business can make or break a startup business like his own.
"It was a cause, it wasn't a job," Briggs said.
Listen up fellow students (and you veterans): The last three jobs Briggs had did not exist before he was in college.
Debbie Galant, founder and editor-in-chief, Baristanet
Debbie Galant started as a New York Times reporter for the New Jersey section and then started her own Mommy blog.
Baristanet launched in May 2004 and Galant said they could sustain on the who, what, when, where, why that The Dallas Morning News' Jim Moroney said is no longer enough.
"We were the only ones doing it fast," Galant said.
However, Galant said the site had to change as the online environment changes.
"If we could get eyeballs we could sell ads and now Groupon's coming," Galant said.
She said the realm of curated content is changing.
"Journalists are middlemen between the story and the audience," Galant said.
In February and March 2009, she said Patch became a viable competitor.
"It's the Applebee's of journalism," Galant said. "It's very bland, but everyone knows it."
Galant said Baristanet must keep audiences interested.
"I do want to get back to those early roots and have more blogging DNA," Galant said. "With more personality."
Gilberto Dimenstein, founder and CEO, Catraca Livre, São Paulo, Brazil 
In 2007, the government wanted to shut down a school, but Catraca Livre mapped the school's neighborhood and showed the connections with surrounding businesses.
Dimenstein said it led to many improvements and innovations at the school like a teacher using Samba to teach philosophy.
He said São Paulo has thousands of assets in many different areas so the online publication started out with a hyper local focus.
"I'm trying to put on the Internet all of the possibilities you have to be more educated," Dimenstein said.
Through transmitting the site onto buses he said the site reaches about four million people. He said the mission of the site is to make the city better through hyperlocal journalism that reaches mass audiences.
"Believe it or not, we are making money," Dimenstein said.
Reetha Hill, director, New Media Innovation Lab, Arizona State University
What have newspapers learned from tech startups?
"I didn't want to be negative and say 'nothing,' but they are learning a few things," Hill said. "You have to do more with less."
Hill said news companies do not go far enough in supporting reporters as innovators. She also said news companies should form partnerships so the companies can focus on the core aspects.
"You can't be experts in all things anymore," Hill said. "Newspapers talk about this a lot, but they're not really embracing this."
On the university side, Hill said we need to do a better job about growing better journalists. She said multimedia journalism is not the sole necessity, but students who can code and cultivate other specialties are important. She said students want to have a say in the news companies where they will be employed.
"Embrace the importance of nerds," Hill said.
John White, deputy editor for online, Winnipeg Free Press, Canada
The News Café is a place for people to meet with journalists in a casual space.
White pushed for the space, which has become an intersection for journalism, and the audience to interact.
"Transparency is giving access to the people–the dignitaries, the politicians, that they may not otherwise meet," White said.
He said the response to his News Cafe idea went something like this cat meme with a furrow browed feline raising it's leg and text that reads 'I waft flatulence toward your non-specific vicinity.'
White said the News Cafe's central location makes it convenient for local big wigs with whom journalists may need to speak with for an article. White said the staff are more engaged in their beats and enjoy bringing in celebrities to do Q-and-As.
He said it's important to go make news consumption a community focal point like it was in the late 1800s.
"I've been a big fan of tearing down the ivory tower in journalism," White said.
Ben Ilfeld, founder and COO, Sacramento Press
"None of the people involved initially were journalists," Ilfeld said. "So we started it as a tech company."
Ilfeld said they wanted people to delve into a storyline that had articles and context baked into it.
By partnering with other local businesses, he said Sacromento Press got advertisers that hyperlocals otherwise have trouble snagging. Ilfeld said the Sacramento Press now has more than 60 websites that are getting millions of pageviews.
Ilfeld said three issues currently exist in media:
1. Compared to fast growing tech companies, media companies are concerned enough with evolving coverage based on metrics.
2. Media is not tested in time to reassess new features before a major launch.
3. Journalists should work closely with developers.
Ilfeld said the newsroom is changing as his company moves towards a co-op structure of bringing in outside people who need workspace.
"I don't know if it's going to work and that's OK," Ilfeld said.
ISOJ 2012: Innovation and entrepreneurialism Q&A, from Knight Center on Vimeo.