Invaluable relationships for the success of local news: Networking and collaboration are key
In a year where local news was even more important, collaboration and networking has become essential. Supporting local news networks through partnerships has shown to be highly successful for the panelists representing various organizations and local news networks at the 2021 International Symposium on Online Journalism (ISOJ).
The Knight Foundation believes in the power of networks and that leaders learn from their peers in order to grow, said Karen Rundlet, director of the journalism program at the Knight Foundation and moderator of the April 29 panel, "Cracking the code for the new local news through networking and collaboration."
Sue Cross
, executive director and CEO of the Institute for Nonprofit News (INN) and
Kate Moos
, from Sahan Journal, came together to discuss how INN has helped support the growth of the nonprofit news organization that covers Minnesota's immigrants and new Americans. Moos commended how much INN has been a resource for Sahan Journal
in terms of training and building its donor base.
"Sahan Journal's evolution and our work coming from INN is really wonderful and fun for us," Cross said. "It's a proof of concept that this network can help an individual news outlet grow."
Lisa Heyamoto, GNI Startups Lab senior program manager at LION Publishers, and Emilee Gilpin, managing editor for Canada's IndigiNews, spoke about the mission of LION Publishers to support the holistic sustainability and operational resilience of local news. Gilpin also spoke passionately about the role IndigiNews is playing in providing objective, equitable news for and with its communities.
"We really believe that there's not necessarily a one-size fits all way forward for local, independent news businesses, so we design programs to meet folks where they are because we believe in local, independent news," Heyamoto said. "They are able to serve their communities with all of the nuance and all of the context and knowledge that comes with being of a community."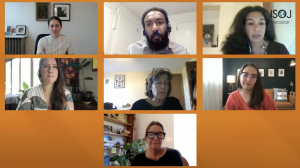 Sarabeth Berman, CEO of the American Journalism Project (AJP) spoke with Mazin Sidahmed, co-executive director of Documented, a nonprofit news site that covers immigration in the New York area. They touched on the invaluable relationship between AJP and Documented in providing impactful news coverage by helping to fund its operational needs. Sidahmed also spoke to the difference between working on a national scale versus a local one in terms of having a connection with the communities you are reporting on and working with.
"AJP is unique because they fund the things that others don't want to fund," Sidahmed said. "We needed the operational support if we wanted to reach the level we wanted to reach."
Local news plays an important role in creating an informed public and now more than ever the stakes are higher. The networks between local news and other organizations are imperative to building infrastructure, operations, and readership of local news networks.
"This isn't just about saving journalism, filling the gaps, or replacing commercial models, this is about reinventing something that's really powerful in transforming communities and bringing people back together," Cross said. "That comes through all these networks."
ISOJ continues on Friday, April 30. Follow along at isoj.org and on social media with #ISOJ2021. You can watch the panel in English here or in Spanish here.