With a national newsroom and several local bureaus, Capital B wants to get closer to Black communities and regain their trust in media
Lauren Williams and Akoto Ofori-Atta, co-founders of Capital B, opened the fourth day of the International Symposium on Online Journalism (ISOJ) speaking about how their new project came to be, it's main purpose and what they expect when they officially launch the site next Fall. Williams and Ofori-Atta talked to Amanda Zamora, co-founder and publisher of The 19th*, who presented her own new project at ISOJ 2020.
For the keynote session, "Reimagining news for Black Americans: Paving a path toward equity in journalism", instead of presenting slides with numbers and strategies of "a project that does not exist," as Williams explained, the journalists held a conversation with each other in which they shared experiences and ideas that eventually led to the creation of Capital B: a non-profit local and national news organization reporting for Black communities across the U.S.
Williams, CEO of Capital B, began by highlighting two dates important to the foundation of the news project. One was October 2010, when she and Ofori-Atta met at The Root, another non-profit news organization where they both used to work. For both of them, it was an inspiring and nourishing place, where they were able to learn about Black media and its challenges.
"It was where the seed was first planted for us. If one day we could do this ourselves, what might we do differently?" Williams reflected.
For Ofori-Atta, executive editor of Capital B, that time was especially significant because it allowed her to think and meet journalists who were all contemplating how to report news that was important to Black Americans, and realizing how a lot of Black newsrooms were not getting the same investments as other mainstream news organizations.
"We would often think about, 'If we had enough resources, if we had enough money, enough personnel, enough time, how would we run a Black-focused newsroom?' We had a lot of ideas […] but we also were not quite ready to start and launch our own thing, we still had a lot to learn," Ofori-Atta said.
Their time at The Root was also where their personal and professional relationship grew. Williams, for instance, highlighted how Ofori-Atta was clear about audience engagement, talking about strategies for Facebook or Twitter that had an impact on how they work together, "influenc[ing] the decisions that we are making now."
Eventually, and at different moments, both left that organization and began a journey transitioning into leadership roles. Ofori-Atta, for instance, was a JSK fellow at Stanford University where she invested her time to thinking about Black news.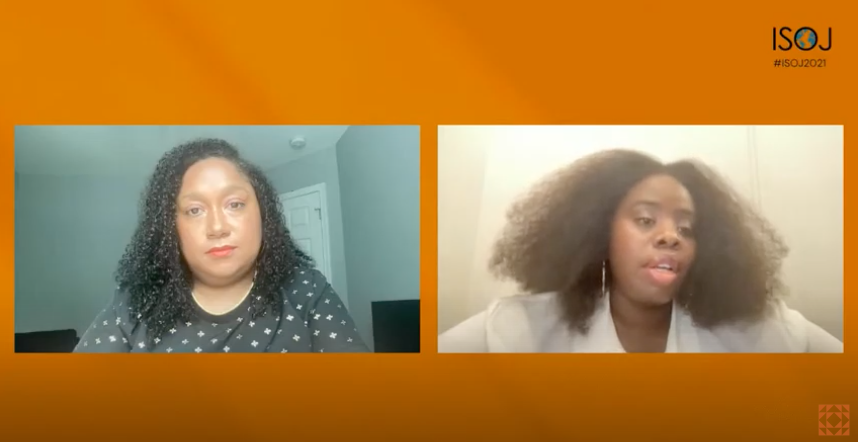 The next important date for Capital B wouldn't be until June 2020.
"When I think back at that time, I think back to being furious, being scared, being really worried about the future in general, worried for Black people, and really concerned about whether or not journalism was leading the moment. And I had a broad sense that, overall, it was not. So, I sent a spicy text message […] to our group chat, it was an angry text that, Lauren, you really channeled into something much more productive," Ofori-Atta said.
In fact, that "spicy" message was received by Williams as an inspiration. She was "feeling terrible," too: she was noticing women news leaders stepping down, the difficulty of the pandemic coverage, working from home, being a Black woman in that moment, she was just burned out. "I was miserable," she recalled. She was thinking about "how to channel all what was happening, how to productively move forward."
"You sent the spicy text, and I realized it was a moment where I can channel this angst into solutions. In that split second, I didn't have the exact solutions, but I knew what my talents were and I knew that the moment called for something big and I knew who I wanted to find the solutions with," Williams said to Ofori-Atta.
"Yes, when you texted and said, 'Maybe it's time to start something new,' I said 'Yes,' without hesitation," Ofori-Atta said. "The big question was, 'What is it going to be?'"
Since then, they have been working on Capital B remotely. They talked about a conversation they had at the beginning of the project about how their past experiences in Black media had formed what they thought they could do when "reimagining news for Black Americans."
Their talk ended on two big ideas: local news that was really focused on issues that mattered to the community, and high-quality journalism that rarely benefits the Black communities.
"We want to create a new and different kind of local news that really caters to the information needs of predominantly or largely Black cities across the country. That felt really, really important to us," Williams said. "We also thought about the ambitious, well-funded investigative and accountability journalism that big, mainstream news outlets do, and how Black audiences don't often get the benefit of really well-funded, ambitious journalism made for them and about issues for them. […] There is a real need for that type of journalism for a Black audience. Really, really high-quality reporting for a Black audience."
That's how Capital B was born: a network of local news bureaus across the country connected by a national hub that does big investigative and accountability journalism. The idea is that both teams – the local and the national – support each other and do the best journalism they can.
"A big, ambitious idea, but we felt the moment called for something big and ambitious. The question was how do we do it," Williams said.
They are focused right now on large, Black cities for hosting bureaus, and places where demographics are shifting. According to Ofori-Atta, these are areas where there are possible political tensions, and where Black people are victims of disinformation campaigns.
"Part of that, all of this, is to combat that [disinformation] and become a trusted source for Black people," said Ofori-Atta, who highlighted why local information is imperative to this project and important for Black communities.
She shared the case of a woman who had lost her son in a shooting in Philadelphia, who talked about how journalists were reaching her so she could talk about her son, while she was "dying from the grief." The woman noted how none of the journalists talked to her about support groups, that no one gave her the information she needed to live. "That was an incredible failure for our industry," Ofori-Atta said.
"We can't call people to these higher levels of engagement if we are not basically creating avenues for them to get information they need to live their everyday lives. That is going to be a big part of what Capital B does," Ofori-Atta highlighted.
During the Q&A section, the journalists explained in detail that they were thinking of having eight bureaus and 20 people on the team when they launch the project in the Fall. The main beats for Capital B are going to be education, health, criminal justice, politics, housing and economics.  "Those are the ones that most directly affect people's lives," Williams said.
In a two-month fundraising campaign, they have received $1.5 million, which, for them, reflects how much this space is needed.
Ofori-Atta told young journalists to find those people within the newsroom who are trying to understand people and to learn from them. And to the leaders, she asked them to include reporters of color in decision-making. "Doing that will ensure that you are doing things in a more inclusive way," she said.
ISOJ continues until April 30. Watch on YouTube in English or Spanish.