ISOJ panel explores the evolution of the op-ed section and what comes next for opinion journalism
The internet has opened new opportunities for opinion journalism. The op-ed sections of newspapers have already evolved, more opinion articles have been published and new formats have been tested, as journalists try to promote civic engagement. But, what lies ahead?
Opinion editors from four major U.S. newspapers, including The New York Times, will debate the future of news publications' op-ed sections at the 24th International Symposium on Online Journalism (ISOJ) .
The panel "The future of opinion journalism: How op-ed sections have evolved in the digital era and what lies ahead" will take place from 11 a.m. to 12:10 p.m. U.S. Central Time on Friday, April 14. The panel is open to all ISOJ 2023 attendees, so sign up today! Participate in ISOJ 2023 in person, in Austin, or online, from anywhere!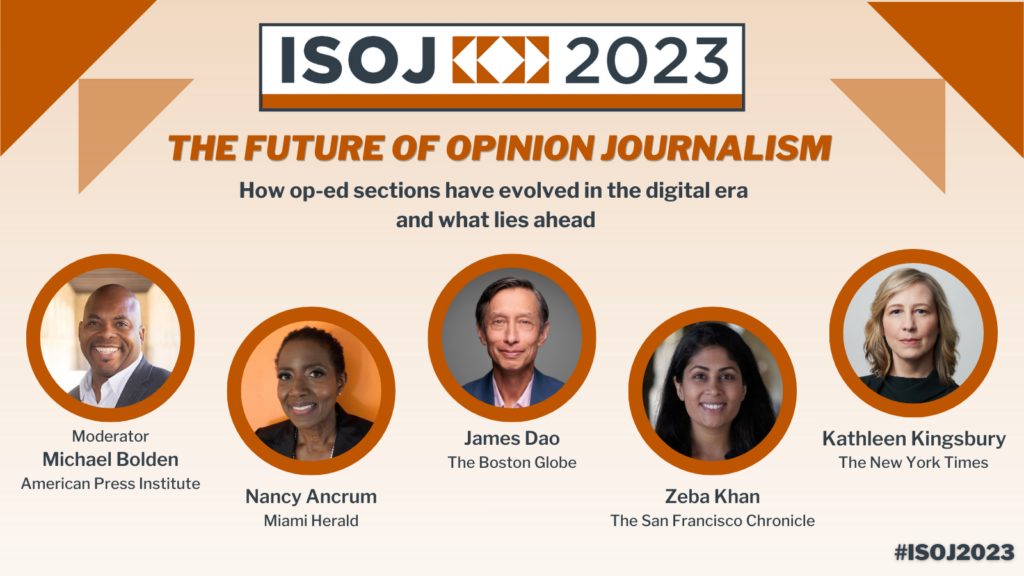 Michael Bolden, CEO and executive director of the American Press Institute, will moderate the opinion journalism panel.
"Civic discourse and democracy comprise one of the four pillars of our strategy at the American Press Institute," he said. "We expect an engaging discussion on the role of opinion journalism in the newsroom and in our communities."
Bolden plans to examine the different ways opinion journalism can contribute to "setting discussion agendas for important issues" impacting societies – including how citizens live and how communities function.
"What are the power dynamics, and whose voices are heard and unheard?," Bolden asked. "What is the role of opinion journalism in general civic discourse and how does it affect the polarization we see on many topics that permeate social interaction?"
Members of the panel will offer a variety of perspectives on what's happening in the opinion journalism space within today's newsrooms and share how they've experimented at different levels of the news ecosystem.
Panelists include:
Prior to ISOJ, the American Press Institute is hosting its Local News Summit on Opinion, Civic Discourse and Sustainability. This invitation-based summit will gather and advance solutions for the most pressing issues facing opinion journalism today.
The conversation will continue at ISOJ both virtually and in person at the Zlotnik Family Ballroom on the UT Austin campus. View the conference program to see a full list of panels, presentations and speakers. Register today to participate in this one-of-a-kind global symposium!
ISOJ, which began in 1999, brings together journalists, media executives, scholars and students to discuss the impact of technology on journalism today and in the future. It is an innovative conference that bridges the gap between the news industry and academia. 
For updates and additional information, you can visit ISOJ's website, Twitter, Facebook, and LinkedIn. If you have any questions, please contact us at isoj@austin.utexas.edu.