ISOJ panel says planning, content and format are key elements for video journalism online
Watch video of the online video panel from ISOJ 2018.
Even though video continues to be an important tool to tell stories in digital journalism, the media must take into account that format, planning and content are fundamental elements of any story.
This was the conclusion of the panelists in the session "Video: Cracking the Code for Successful Video Online," chaired by Trei Brundrett, chief operating officer and co-founder of Vox Media, during the 2018 International Symposium on Online Journalism (ISOJ).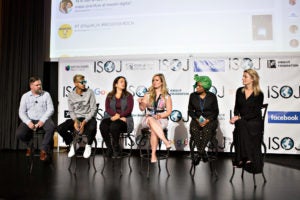 Preproduction and knowing how to pick the best format to tell each story are key elements to transmitting the best message you want to send, according to Selymar Colón, editor and senior director of digital news at Univision.
"Once you decide that you have a good story to tell, the key here is preproduction," Colón said. "If you don't plan before doing any story, in particular video, it's not going to work."
Colón shared four key questions that the Univision teams ask themselves when they decide on a format for videos. What story do you want to tell? Who is your audience and where are they? What resources do you have? Do you want to innovate?
Imaeyen Ibanga, senior video producer at AJ+, said that the journalist must first be sure of the objective they want to achieve with the video story, whether it's to generate money, create  impact, gain visibility or encourage audience participation.
According to Ibanga, in order for a video to be successful, you have to be careful when writing the headline and the story.
"Not every story is a video story, and that's okay," she said. "You shouldn't be doing video stories because you feel that you need to be doing video stories. They should serve a purpose."
Kristie Gonzales, general manager of KVUE-TV in Austin, gave the perspective of a local television station regarding the use of video as a journalistic tool. She stressed the importance of differentiating native video for social networks (social native video) from the material used for television broadcasts.
"We are paying attention to our data and its clear. If we just take our news packages and slap them online, like we did at the beginning of the internet, it is not going to work," Gonzales said. "That doesn't work on social, and it doesn't work on all those little screens where you really need to tailor the experience."
As an example, Gonzales showed the series "Heart Threads," which KVUE-TV makes as part of the TEGNA network, which includes 47 television stations in the country. The project consists of native videos of less than a minute, which are optimized for sharing. The videos are posted on Facebook, where they are most widely viewed, according to Gonzales.
Mindy Massucci, content director of Bloomberg's new video streaming platform TicToc, said the project is based on data and focuses on important stories and live coverage of events, and that the objective is to share information the audience needs to know.
"We want to engage you you're a passive or active user. You have to keep in mind how people's lifestyles are," Massucci said. "People are busy, they are checking Twitter really quick to see what they missed during their meeting, or while driving…If you get up in the morning, we have voiceovers for everything so that people can put the phone down and just listen…Or if you're in more active engagement mode, we have subtitles so you can read, listen, and see the video, which enhances the experience."
Live coverage of events is an important part of TicToc's video production. Massucci said that TicToc follows the philosophy that Bloomberg has had since its beginning in 1981: to produce information based on data in order to help the audience make decisions.
Yusuf Omar, cofounder of the platform Hashtag Our Stories (UK/South Africa), explained the reach that new technology can have with video. He showed examples of phone video coverage that he shares through Snapchat and Instagram Stories.
Omar, who defined himself as "mo-jo" (mobile journalist), said that he has developed courses for communities in India and other Asian countries on how to tell stories via cell phones to generate impact in their societies.
"I produced content on mobiles and it performs better on mobile devices. When you make it on a phone, you think about the mobile audience," Omar said. "This footage was hand held, it was raw, it was shaky, the audio was terrible. But reality is the new quality."
Omar gave a demonstration on how a virtual reality stream works through Facebook Live and explained how video journalists must become experts in live video, video 360 and social media like Snapchat and Instagram.
"The whole space is going to move very quickly," Omar said. "We are approaching a landscape where the community, the audience are all going to be able to do this in their houses. What are you going to offer them? Our future is in our ability to curate and aggregate and listen to the voices of mobile storytellers around the world."
Although using video online can be an attractive tool, the panelists said that the content and journalistic rigor to verify the facts continue to be fundamental to continue to produce good journalism in a world in which anyone with a phone can create content that could seem like journalism.
"Anybody can take video, and edit it, and make it look great, but it is hard to be a journalist," Ibanga said. "You have to be smart, you have to know how to write, you have to know how to put stories together, and all of the basics that have to be there before you can even be successful. It is not that everybody will be able to do what we do."
For 19 years, ISOJ has brought media executives, journalists and academics to Austin, Texas for a discussion on the present and future of online journalism. The conference continues today, April 14.
Live streaming is available in English and Spanish at https://isoj.org/. Raw video of Friday's panels is available on YouTube. To view the morning sessions, click here. To view the afternoon sessions (including Artley's speech), click here.