Learn from Newspack how open-source technology can support news orgs: Don't miss workshop at ISOJ 2023
In the age of digital journalism, many small publications are struggling to stay afloat as they lack the resources and expertise to adapt to new systems, including CMS, the content management systems used to publish news products. However, open-source platforms and other shared tools have been created to help digital publishers.
At the 24th International Symposium on Online Journalism (ISOJ), journalists, media executives and scholars will have the opportunity to learn about Newspack, "an all-in-one platform for small and medium-sized news organizations that simplifies publishing and drives audience and revenue right out of the box." The tool was created in 2019 by Automattic, with support from the Google News Initiative.
Fernando Diaz, an account executive with Newspack by Automattic, will lead the lunch workshop "The Newspack Way: How we're building an operating system for independent journalism through open source technology, best practices and shared services" on Saturday, April 15 from 12:20 p.m. to 1:10 p.m. ISOJ registered attendees need to also register for this workshop, which will be held in English without interpretation. The workshop will be available online for remote attendees.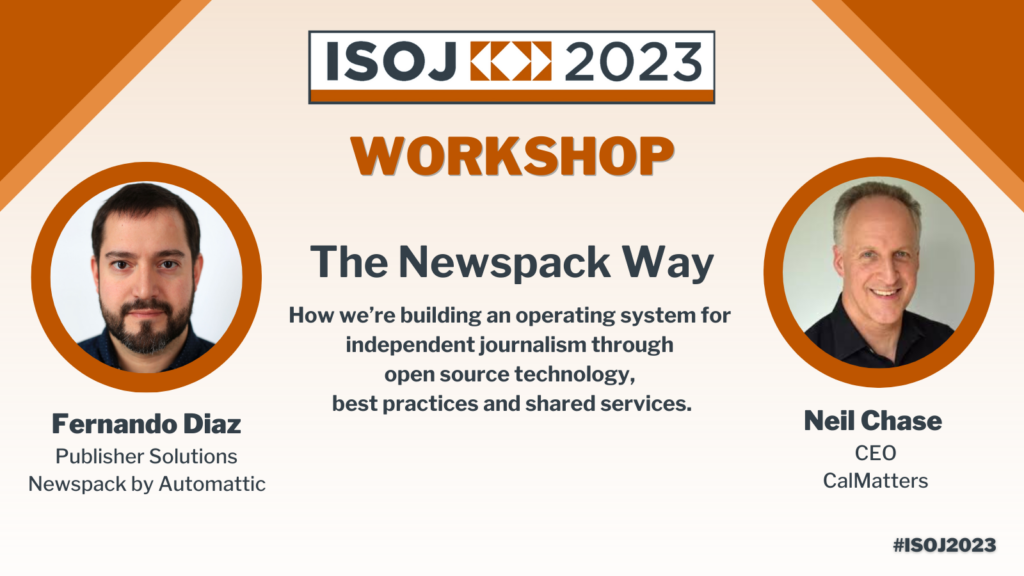 Diaz will explain how Newspack works as a shared service model that provides news companies with tools to design websites, publish stories, generate revenue, promote their content and more.
Since its creation, Newspack has launched over 200 sites in locations across the world.
Diaz is the first point of contact for many publishers who eventually join Newspack to improve their operations and better serve their communities. At the workshop, he will hold a hands-on demonstration of Newspack's key features, especially its editorial, engagement and revenue operations. He will also share success stories from Newspack's community and discuss where the platform is headed.
"In journalism, it is common for what is possible to be hampered by lack of resources, experience and exposure to new ideas," Diaz said. "I'm hoping workshop attendees will better understand what is possible when your publishing technology empowers your team and opens new opportunities and ideas."
Before joining Newspack full time, Diaz taught data and investigative journalism at the Medill School of Journalism, Media, Integrated Marketing Communications at Northwestern University. His experience comes from a variety of newsrooms, including The Chicago Reporter, The San Francisco Chronicle and Hoy Chicago.
The workshop will be co-hosted by Neil Chase, CEO of CalMatters, a Newspack-powered nonprofit venture that reports on California politics and policy. Chase will share his publication's experience with the platform. Prior to CalMatters, he also worked at The Mercury News, The East Bay Times, MarketWatch and The New York Times.
ISOJ, which began in 1999, brings together journalists, media executives, scholars and students to discuss the impact of technology on journalism today and in the future. It is an innovative conference that bridges the gap between the news industry and academia. 
For updates and additional information, you can visit ISOJ's website, Twitter or Facebook. If you have any questions, please contact us at isoj@austin.utexas.edu.