Learn how digital content provenance can combat misinformation and disinformation at ISOJ 2023 workshop
False news spreads about six times faster than the truth on Twitter, according to a 2018 MIT study. As fake images and videos on the Internet create uncertainty, the Content Authenticity Initiative, a large cross-industry community seeks to improve trust and transparency by making it easy to determine the provenance, or origins, of content online.
Santiago Lyon, head of Advocacy and Education at the Content Authenticity Initiative, will host the breakfast workshop "The need for digital provenance: How the Content Authenticity Initiative is addressing mis/disinformation" at the 24th International Symposium on Online Journalism (ISOJ).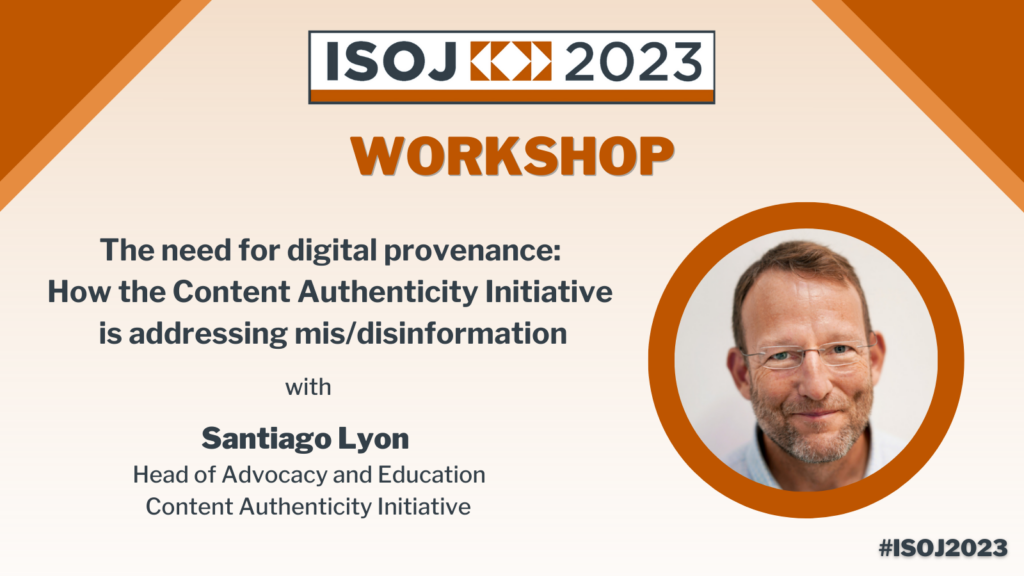 The workshop will take place at 8:00 a.m. U.S. Central Time on Saturday, April 15. This session is open to ISOJ attendees, but registration is required to attend in person. Additionally, it will be streamed for virtual attendees. This workshop will be held in English without interpretation.
Announced in 2019 and led by Adobe, the Content Authenticity Initiative (CAI) is a community of over 1,000 members working to promote the adoption of a new open-source content authenticity standard. The CAI comprises media and tech companies, journalists, human rights activists, academics, and creators. Members include the AP, Reuters, AFP, The NYT, The WSJ, The Washington Post, BBC, Microsoft, Canon, Nikon, and others.
The CAI is creating and implementing an open-source system known as Content Credentials to document the provenance, or origins, of digital file types. With these tools, creators can bind the relevant provenance information to their digital files. As CAI-enabled files are created, published, and shared, any edits made to them are recorded so consumers can easily view the history of the content. The CAI has also developed Content Credentials to help identify content generated by artificial intelligence.
"People all over the world are increasingly confused about what is or isn't real," Lyon told Adobe in 2021. "Since we know that most people get their news through social media these days, it's extremely important that organizations like Adobe find ways to combat misinformation and give consumers a chance to make informed decisions about what's true."
Lyon has over 35 years of experience as a photojournalist, photo editor, media executive and educator. He has won multiple awards for his coverage of conflicts around the world. Under his leadership as vice president and director of photography, The Associated Press won three Pulitzer Prizes for photography.
There is still time to register to attend ISOJ 2023 in person or virtually. Don't miss out on this great opportunity!
ISOJ, which began in 1999, brings together journalists, media executives, scholars and students to discuss the impact of technology on journalism today and in the future. It is an innovative conference that bridges the gap between the news industry and academia. 
For updates and additional information, you can visit ISOJ's website, Twitter or Facebook. If you have any questions, please contact us at isoj@austin.utexas.edu.