New York Times chairman and publisher A.G. Sulzberger opens ISOJ with discussion on trust, diversity and the business of journalism
A.G. Sulzberger, chairman and publisher of The New York Times, opened the 22nd International Symposium on Online Journalism (ISOJ) by reminding the journalists, media executives and academics watching from around the world of the permanence of change in the news industry.
"Change is emerging as a constant that news organizations are going to have to learn to live with," he said. "That's technological change, and how we can report and tell and distribute our journalism, audience behavior changes that are really significant and can't be ignored, and then business model changes."
Sulzberger, a journalism leader in the U.S. and around the world, touched on this and other pressing issues for the news industry in his keynote conversation with
Alberto Ibargüen
, president and CEO of the
John S. and James L. Knight Foundation. 
Their talk kicked off the first day of ISOJ, which runs from April 26 to 30 and is held completely online.
Reflecting on the past year, Sulzberger said people needed trusted sources of information in such consequential times. He also sees an opportunity for news organizations aligned with the values of independent journalism amidst the prevalence of noise that often circulates on the internet and social media in the form of lies, conspiracy theories and hot takes.
"One of the biggest things we're going to have to do is to continue to tell the story about how what we do is different from what you find on social media or on the rest of the internet," he said.
And readers are responding to what The Times does. The news organization hit 7.5 million paid subscriptions at the end of 2020.
"The key to a successful subscription business, or actually, any reader-funded journalistic operation, is good journalism. And I just really, really believe that," Sulzberger said. "We had a really long hard stretch where we gutted much of the company in order to protect that core investment in journalism, believing with every fiber of our being that would be the path out of it ultimately, even if we couldn't quite see at that moment exactly what that path would look like."
Asked about the decline in trust of media, Sulzberger emphasized that it has not just decreased, but has fractured along political lines.
"I'd love to say that just putting our heads down and doing what we're doing is enough, but I think we need to be aware that there are systematic efforts happening in the United States, but also all over the world to discredit journalism and to discredit journalists," he said.
The common response among media organizations is assuming that readers understand the conventions and language of journalism, Sulzberger added.
"The societal signal we're getting is that the story doesn't always speak for itself," he said. "Someone's going to need to tell the story of 'what is journalism, why does it matter and what role can it play in your life.' I think as an industry, it is urgent for us to tell that story."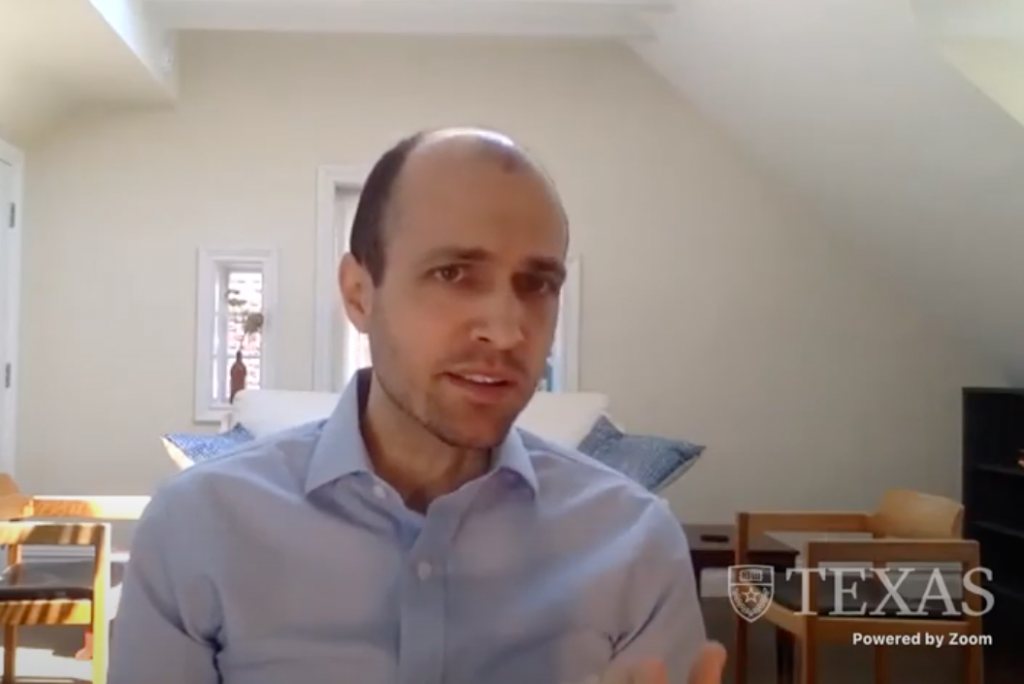 Stemming from the topic of trust, Ibargüen broached the related subject of diversity and inclusion, mentioning recent issues at The Times. In February 2021, executives, including Sulzberger, promised changes to build "a more diverse, equitable and inclusive New York Times" following a commissioned report that found the news organization to be a "difficult environment" for many of its employees.
"I think it's really especially imperative that news organizations [wrestle with diversity, equity and inclusion] in a real way, in a genuine, searching way," he said. "Because our mission as news organizations is to help people understand the world, and the world is diverse and full of all sorts of experience and ideas. And if you want to capture those with nuance and sophistication and insight, if you want to fully capture the diversity of the world, I do think that it's essential to have a newsroom that approaches the diversity that you're covering."
Acknowledging that the news organization has a way to go, he said the progress made "has made our journalism stronger."
The media executive also talked about the diversification of media formats, as the news organization explores other ways of telling stories and finds new audiences. He referenced their popular podcast, The Daily, and the recent documentary "Framing Britney Spears."
"The exciting thing about the last few years, has been, for the first time, I really feel like we're telling each story the best way we can tell it," Sulzberger said.
Moving to a different kind of challenge for journalists, Ibargüen asked about how journalists can be protected in an increasingly volatile environment for the press in the U.S. and around the world.
While journalists from The Times have been expelled from reporting in China and file stories from war zones, Sulzberger said "we don't deal with it anywhere near the level that the courageous journalists in those countries deal with it."
He said the U.S. owes support to journalists where press freedom is not respected.
"One of this country's greatest exports was the notion of a truly free press and the centrality of free expression and free speech," Sulzberger said. "For most of the last century, we have fiercely defended those principals abroad and been a bulwark against attempts to crack down, not always successfully and not everywhere, but it made a difference."
"The former president's systematic delegitimization of the press did the exact opposite," he elaborated. "It didn't just signal a retreat, it offered a playbook to autocrats and strongmen around the world who were just waiting for an excuse to crack down on these pesky journalists asking their tough questions."
He said he is hopeful the Biden administration will "send a signal that the United States cares about and will defend a free press."
Closing out the discussion, Ibargüen and Sulzberger touched on the importance of local news in establishing trust.
"We need to accept that at a societal level, we need a healthy news ecosystem, journalistic ecosystem. And that journalistic ecosystem needs to be grounded on original reporting, and the vast majority of original reporting in this country and in every other country happens at the local level," Sulzberger said. "I do know that we need to be moving with urgency and resolve, not just within our industry, but within our society, to say, 'this is as pressing an issue as we are confronting today,' making sure that our fellow citizens continue to have access to independent reported journalism about their communities. It provides them the information they need for a strong and healthy democracy."
View video of Sulzberger and Ibargüen's conversation on YouTube and follow along for the remainder of ISOJ, which ends on April 30. You can view the ISOJ program, list of speakers and coverage of the conference at isoj.org.