Nora Paul Defines Interactive Multimedia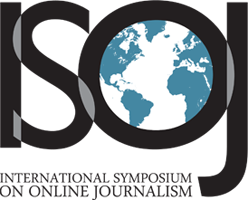 Nora Paul does not like "squishy" terms such as "interactive multimedia." She was once told that an interactive multimedia presentation consisted of a story on the Web in which the byline was a hyperlink to the writer's bio, and there was a link to a video on the same page. She was not pleased with this definition, in part because she believes journalists are not taking the digital medium "far enough."
Paul, the director of the Institute for New Media Studies at the University of Minnesota, worked with a graduate student, Christina Fiebich, to define the terms and the elements that make digital storytelling unique. At the 6th International Symposium on Online Journalism on Friday, Paul gave an overview of the Web site she and Fiebich created to present their findings.
Paul asked the audience how journalists can "leverage the strengths and attributes" of digital media to create a new form of storytelling. She believes user control is part of the answer. She said that journalists need to start thinking about how they can involve the user in their stories.
"Only if there is some element of control by the user is it a new story form," she said.
The extent to which media can be combined on the Web is another part of the answer. She demonstrated her point by comparing a static Web site and a dynamic, interactive Web site, both created by the BBC.
The static site contained text about the drug Ecstasy and a photograph of the drug. The dynamic, interactive site allowed the user to control a video of a young man dancing, allowing the user to choose what drugs to give him and enabling the user to see the drug's effect.
Paul concluded her presentation with a quote by Winston Churchill: "Without tradition, art is a flock of sheep without a shepherd. Without innovation it is a corpse."
"We need to keep honoring the tradition of news, but keep the innovation as well," she said.
ISOJ 2005: Multimedia Journalism, from Knight Center on Vimeo.