Program for Knight Center's 15th annual ISOJ conference on online journalism now available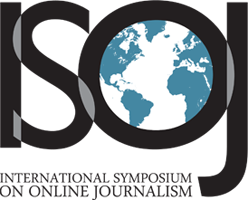 The program for 15th International Symposium for Online Journalism (ISOJ), to take place on April 4 and 5 at the University of Texas at Austin, is now available. Click here to see the full program.Journalists, media executives and scholars from all over the world have already registered to come to Austin to attend the ISOJ conference. Registration is still open but seats are limited, and the conference will sell out soon, as it happened in the previous years. Click here to register.
As it has done for the past 15 years, this year's ISOJ, organized by the Knight Center for Journalism in the Americas, will cover some of the most important issues in online journalism today.
"We have just put together a very strong program with an impressive lineup of U.S. and international speakers and an agenda with some of the hottest topics in digital journalism these days," said Professor Rosental Calmon Alves, founder and director of the Knight Center. "This conference has grown a lot since we launched it in 1999. It is a unique, global mix of academics, journalists and media executives."
This year's program will include discussions on topics like: the challenges of starting a digital native media company, the use of drones, sensors and other new tools and practices for journalists, ethics on the digital age, journalism in China, digital strategies for newspapers, the impact of curation on objectivity, video on the web, the importance of readership analytics for editorial strategies, and the return of optimism to journalism.
ISOJ will also feature keynote speeches by Jim Bankoff, chairman and CEO at Vox Media; Ying Chan, director and professor at The University of Hong Kong Journalism and Media Studies Centre; Jay Rosen, associate professor at New York University and founder of the media blog PressThink.org; and Martin Baron, executive editor at The Washington Post.
For the last 15 years, ISOJ has brought together the top journalists, media executives, researchers and academics in the field to discuss the latest trends, issues and innovations in online journalism. Last year, ISOJ attracted more than 350 participants from over 30 countries and focused on discussing the disruption of the news industry's business models, multimedia storytelling, data visualization, and changes in web design architecture.
ISOJ will take place at the University of Texas' Blanton Museum of Art, located at 200 E. Martin Luther King Jr. Blvd., in Austin, Texas. General registration this year will cost $100. Students and faculty will receive a special rate of $40.
The ISOJ website contains videos and transcripts of all sessions of ISOJ since 1999, besides research papers, PowerPoint presentations and other materials. The site is open to the public as a unique repository of testimonials about the evolution of digital journalism.
This year's ISOJ is supported by the Knight Foundation, The Dallas Morning News, Omidyar Network, and the Moody College of Communication at the University of Texas at Austin.
See the full program for this year's ISOJ below.
Program
FRIDAY, APRIL 4
7:30-8:30 a.m. Registration and breakfast
8:30-8:45 a.m. Opening Session
Rosental Calmon Alves, professor, Knight Chair in Journalism and UNESCO Chair in Communication, School of Journalism, University of Texas at Austin – Symposium Chair
Glenn Frankel, director and professor at the School of Journalism, University of Texas at Austin
Amy Schmitz Weiss, associate professor, San Diego State University – Symposium Research Chair
8:45-9:30 a.m. Building a Media Company for the Digital Age: Lessons from the Field
Keynote speaker: Jim Bankoff , chairman and CEO at Vox Media (The Verge, SBNation, Polygon, Eater, etc)
        Chair: R.B. Brenner, deputy director of the journalism program at Stanford University
9:30-11:00a.m. Bots, drones, sensors, wearables, etc.: The new tools for journalists
Chair and presenter: Janine Warner, journalist turned geek, author and teacher.
Larry Birnbaum, professor of computer science and journalism at Northwestern University; and chief scientific advisor at Narrative Science
John Keefe, senior editor for Data News & Journalism Technology at WNYC
Tim Pool, producer at Vice Media
Matt Waite, professor of practice at University of Nebraska-Lincoln and founder of Journalism Drone Lab
Nicholas Whitaker, media outreach lead at Google
11:00-11:30 a.m. Coffee Break
11:30-1:00 p.m. Journalism ethics and values: Challenges in the digital age
Chair and presenter:  Tom Rosenstiel, executive director at American Press Institute
John Cook, editor at Gawker
Jane Singer, professor at City University London / University of Iowa
Sylvia Stead, public editor at The Globe and Mail, Canada
Edward Wasserman, dean at UC Berkley Graduate School of Journalism
1:00-2:00 p.m. Lunch Break
2:00-2:45 p.m. Pushing the frontier of journalism in China: The digital and global challenges
Keynote speaker: Ying Chan, director and professor at The University of Hong Kong Journalism and Media Studies Centre
Chair:  Stephen King, partner at Omidyar Network
2:45-4:15 p.m. Life beyond the newspaper as a paper-only product: Strategies for the newspaper as a hybrid of atoms and bits
Chair and presenter: Jim Moroney, CEO at A.H. Belo, publisher and CEO at The Dallas Morning News
Penelope Muse Abernathy, Knight Chair in Journalism and Digital Media Economics at University of North Carolina at Chapel Hill
Jim Brady, editor-in-chief at Digital First Media, past president of Online News Association
Janne Kaijarvi, chief media office at Leia Media, Finland
Caroline Little, president and CEO at Newspaper Association of America
4:15-4:30 p.m. Coffee Break
4:30-6:00 p.m. New Research Pathways in Digital News Content: From Preservation to Curation (Research session)
Chair and discussant: Amy Schmitz Weiss, associate professor, San Diego State University (Symposium Research Chair)
Juliette De Maeyer, University of Montreal, Belgium: All the News That's Fit to Link: An Exhaustive Analysis of Links in Their Editorial Context
Patrick Howe and Brady Teufel, California Polytechnic State University: Native Advertising And Digital Natives: The Effects of Age and Advertisement Format on News Website Credibility Judgments
Lisa Lynch, Concordia University and Paul Fontaine, McGill University, Canada: Preserving the Unpreservable: Form, Content, Copyright and the Archiving of Born-Digital Newspapers
Claudia Silva, Nova de Lisboa University, Portugal: Back to the Future of News: Looking at Location-Based Media Principles in the Pre News Era
Vittoria Sacco, University of Neuchatel, Switzerland and Yanjun Zhao, Cameron University: The Impact of Curation On Stories' Objectivity: Audience Criteria of Perceived Objectivity of Storify
Alex Avila, University of Texas at Austin: Bienvenido a Miami y Mas: Immigration Frames In English and Spanish Newspapers During the 2012 Florida Republican Primary
SATURDAY, APRIL 5
8:00-9:00 a.m. Registration and breakfast
9:00-9:45 a.m. Giving Good Advice: Reflections on an academic on 25 years of advising journalists and media companies.
Keynote speaker: Jay Rosen, associate professor at New York University and blogger at PressThink.org
Chair: Paula Poindexter, president at Association of Education in Journalism and Mass Communication (AEJMC)
9:45-11:15 a.m. Journalism star startups: Building innovative media outlets for the digital age
Chair and presenter: Michael Maness, vice-president for journalism and media innovation at Knight Foundation
Laura Amico, CEO, editor and founder at Homicide Watch D.C.
Joey Chung, CEO and founder at The News Lens, Taipei, Taiwan
Jake Horowitz, editor-in-chief and co-founder at PolicyMic
Juanita Leon, director and founder at La Silla Vacia, Bogota, Colombia
Emily Ramshaw, editor at Texas Tribune
11:15-11:30 a.m. Coffee Break
11:30-12:45 p.m. Emerging Journalistic Practices in the Digital Age  (Research session)
Chair and discussant: Jane Singer, professor at City University London / University of Iowa
Lisa Lynch, Concordia University, Canada: 'A Huge Culture Change:' Newsrooms at La Presse and The Montreal Gazette Reflect on the Shift to Digital-First
Avery Holton, University of Utah and Logan Molyneux, University of Texas at Austin: Branding (Health) Journalism: Perceptions, Practices, and Emerging Norms
Adriana Barsotti, Pontificia Universidade Catolica do Rio de Janeiro, Brazil: Two Screens, Two Paths: News Production For Smartphones and Tablets on the Brazilian Newspaper Scene
Matthew Powers, University of Washington-Seattle: Can NGOs Do Journalism? Do They Even Want To? Understanding the Information Work of Leading Humanitarian and Human Rights NGOs
Edward Kian and Ray Murray, Oklahoma State University: Curmudgeons But Yet Adapters: Impact of Web 2.0 and Twitter on Newspaper Sport Journalists' Jobs, Responsibilities, and Routines
12:45-1:45 p.m. Lunch
1:45-2:30 p.m. The untold story: Why we should be optimistic about journalism
Keynote speaker: Martin Baron, executive editor at The Washington Post
Chair: Evan Smith, CEO and executive editor at Texas Tribune
2:45-4:15 p.m. Life after Television news? The boom of video on the web and web video on TV sets
Chair: Robert Hernandez, assistant professor of professional practice at Annenberg School for Communication and Journalism at USC
Rebecca Howard, general manager video, The New York Times
Katharine Zaleski, managing editor at NowThis News
Riyaad Minty, director of AJ+ at Al Jazeera
Rahul Chopra, senior vice president video at News Corp.
Daniel Eilemberg, senior vice president, chief digital officer at Fusion
4:15-4:30 p.m. Coffee Break
4:30-6:00 p.m. Knowing your audience: Readership analytics and editorial strategies for online news
Chair:  Joshua Benton, director at Nieman Journalism Lab at Harvard University
James G. Robinson, director for news analytics at New York Times
Higinio O. Maycotte, CEO and founder at Umbel
Nicholas White, CEO and founder at The Daily Dot
Todd Cunningham, director at Media Impact Project, the Norman Lear Center atUniversity of Southern California
Melody Kramer, digital strategist and associate editor at NPR