Register now for pre-ISOJ workshop on confronting online violence against female journalists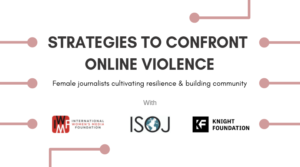 Registration is open for a day-long workshop examining the risks female journalists face on the internet.
The workshop, titled "Strategies to confront online violence: Female journalists cultivating resilience & building community," will be held April 11, 2019 from 9 a.m. to 5 p.m. at the Belo Center for New Media on the University of Texas at Austin campus.
The workshop will focus on solutions and strategies for dealing with online harassment and will highlight ways to support a culture of resilience and diversity in news media. At the end of the day, there will be a town hall focused on solutions to confront online harassment.
"This workshop will provide practical strategies and tips that female journalists can implement while in the field," said Mallary Tenore, assistant director of the Knight Center for Journalism in the Americas. "We will take a solutions-focused approach to the workshop in hopes that attendees will leave with a heightened sense of resilience and a greater understanding of how to deal with this all too prevalent issue."
Almost two out of three respondents to a 2018 global survey of women journalists carried out by the International Women's Media Foundation (IWMF) and Troll-Busters.com reported being threatened or harassed online at least once. "Of those, approximately 40 percent said they avoided reporting certain stories as a result of online harassment," the organizations' report states. This workshop will include a presentation of the IWMF and TrollBusters' report led by Michelle Ferrier.
This event is organized by the Knight Center for Journalism in the Americas in partnership with IWMF and the Knight Foundation. Although it will focus on female journalists, men and women are invited to participate in the workshop, which will feature journalists, platform representatives, digital security experts and other stakeholders.
"Building an ecosystem of support for female journalists to holistically address online attacks is essential to achieving a greater diversity of voices in the news media, amplifying women's vital perspectives instead of silencing them," said Nadine Hoffman, deputy director at the IWMF. "This workshop aims to lay the foundation for a coalition of stakeholders committed to making this vision a reality."
The workshop takes place the day prior to the start of the International Symposium on Online Journalism (ISOJ), a global event joining journalists, media executives, academics and others to discuss the present and future of online journalism.