Thank you to everyone who attended the 18th International Symposium on Online Journalism in Austin on April 21 and 22, 2017. It was a great success and we couldn't have done it without the collaboration of all our journalism friends from around the world!
The conference attracted journalists, academics and media executives from nearly 40 countries who met to talk about accountability, fact checking, video, business models, podcasts and more. You can view video of the conference in English and Spanish below.
We'll see you in 2018!
Video of ISOJ 2017 – Day 1  English and Español
Video of ISOJ 2017 – Day 2  English and Español
2017 Sponsors





News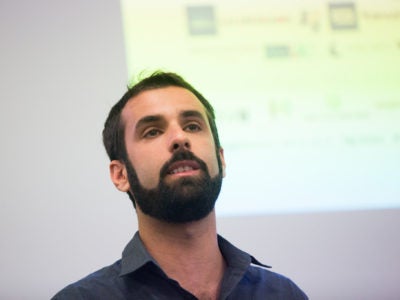 Google News Lab, the team at Google that collaborates with journalists and media in the creation of information, is expanding its activity in the Latin American market. This was explained by the leader of Google News Lab for Brazil and Latin America, Marco Túlio Pires, during his speech this Sunday, April 23, at the 10th … Read More
ISOJ 2017 Archive
Keynote Speaker: Jim VandeHei
Chair: Jennifer Preston, vice president of journalism, Knight Foundation
Jim VandeHei, co-founder and CEO, Axios (former executive-editor and co-founder, Politico)
Watch Panel Discussion
Download Transcript
Factchecking: The international trend of verifying public discourse
Chair and Presenter: W. Gardner Selby, editor, PolitiFact Texas/Austin American-Statesman
Watch Chair Presentation
Craig Silverman, media editor, BuzzFeed

Alexios Mantzarlis, director, International Fact-Checking Network at Poynter

Laura Zommer, executive director, Chequeado, Argentina
Watch Panel Discussion
Download Transcript
Accountability Journalism in the Trump Era
Chair and presenter: Evan Smith, CEO and co-founder, Texas Tribune
Clara Jeffery, editor-in-chief, Mother Jones

McKay Coppins, staff writer, The Atlantic

Matt K. Lewis, senior columnist, The Daily Beast

Sopan Deb, general news reporter, The New York Times
Watch Panel Discussion
Download Transcript
RESEARCH PANEL: Creating, Producing, and Engaging: Latest journalism practices underway in newsrooms
Chair: Amy Schmitz Weiss, ISOJ research chair, associate professor at San Diego State University
Audience Engagement Editors as Newsroom Intermediaries

Karin Assmann and Nicholas Diakopoulos, University of Maryland

Decoding the Podaissance: Identifying Community Journalism Practices in Newsroom and Avocational Podcasts

Marcus Funk, Sam Houston State University

Managing Digital Products in a Newsroom Context

Cindy Royal, Texas State University

Knowing the Numbers: Assessing Attitudes among Journalists and Educators about Using and Interpreting Data, Statistics, and Research

John Wihbey and Mark Coddington, Northeastern University and Washington and Lee University
Watch Panel Discussion
Download Transcript
Keynote speaker: Lydia Polgreen
Chair: Evan Smith, CEO and co-founder, Texas Tribune
Lydia Polgreen, editor-in-chief, The Huffington Post
Watch Panel Discussion
Download Transcript
Conversational journalism: How bots and artificial intelligence can get us there
Chair and presenter: Sanette Tanaka, product designer, Vox Media
Watch Moderator Presentation
John Keefe, bot developer & product manager, Quartz Bot Studio

Andrew Phelps, product director, New York Times

Joey Marburger, director of product, Washington Post

Travis Swicegood, director of engineering, Condé Nast ATX
Watch Panel Discussion
Download Transcript
Keynote panel: The transformation of U.S. metropolitan newspapers: How newsrooms have changed from print-centric to digital-centric
Chair and presenter: Mike Wilson, editor, Dallas Morning News
Watch Chair Presentation
Nancy Barnes, editor and executive vice president, Houston Chronicle

Neil Chase, executive editor, The Mercury News and East Bay Times

Kathleen Kingsbury, managing editor for digital, Boston Globe

Aminda (Mindy) Marqués Gonzalez, executive editor and vice president, Miami Herald

Stan Wischnowski, executive editor and senior vice president, Philadelphia Media Network
Watch Panel Discussion
Download Transcript
The Podcast Boom: Prospects for news organizations
Chair: Joshua Benton, director, Nieman Lab at Harvard
Nicholas Quah, founder, Hot Pod

Eric Nuzum, senior vice president of original content development, Audible

Andrea Silenzi, host/producer, Why Oh Why

Lisa Tobin, executive producer for audio, The New York Times
Watch Panel Discussion
Download Transcript
Keynote Speaker: Melissa Bell
Chair: Jeff Jarvis, professor and director of Tow-Knight Center of Entrepreneurial Journalism, CUNY
Melissa Bell, publisher, Vox Media
Watch Panel Discussion
Download Transcript
RESEARCH PANEL: Diving Deep into the layers of journalism, the journalism practice and its audiences
Chair: Kathleen McElroy, associate director, UT Austin School of Journalism
Social Capital to the Rescue of the Fourth Estate: A Playbook for Converting Good Will into Economic Support

James Breiner, University of Navarra, Spain

A Reinvention Through Opportunities Of Crisis: An Exploratory Exercise On Journalistic Initiatives On Medium

Maria Clara Aquino Bittencourt, University Unisinos, Brazil

The News of Your Youth: Memory and Subjective Experience of Time During Major News Events

Terry Britt, University of Missouri

Through the Twitter Glass: How Social Media Reflect and Influence the Political Climate

Pei Zheng and Saif Shahin, Ithaca College and Bowling Green State University
Watch Panel Discussion
Download Transcript
Accountability journalism in polarized societies around the world
Chair: Krissah Thompson, staff writer, Washington Post
Carlos Fernando Chamorro, founder and editor, Confidencial.ni, Nicaragua

Ivan Kolpakov, co-founded and deputy editor-in-chief, Meduza,io, Russia/Latvia

Stevan Dojčinović, editor-in-chief, KRIK.rs, Serbia

Malou Mangahas, co-founder and executive director, Philippine Center for Investigative Journalism, Philippines

Luz Mely-Reyes, co-founder and general director, Efecto Cocuyo, Venezuela

Martín Pallares, journalist and co-founder, 4Pelagatos, Ecuador
Watch Panel Discussion
Download Transcript
News startups and new business models: Innovation in the search of sustainability
Chair: Aron Pilhofer, James B. Steele Chair in Journalism Innovation, Temple University
Jim Brady, founder and CEO, Spirited Media (BillyPenn.com/TheIncline.com)

Tom Grundy, editor-in-chief, Hong Kong Free Press

Juan Luis Sánchez, deputy director, ElDiario.es, Spain

Janine Warner, ICFJ Knight Fellow and executive director, SembraMedia

Li Zixin, founder and CEO, China30s.com, China
Watch Panel Discussion
Download Transcript