ISOJ 2023 panel to discuss new approaches for reconnecting with audiences, responses to news avoidance
On average, 38 percent of respondents to a Reuters Institute survey said they sometimes or often actively avoid the news. All over the world, people have been saying they are overwhelmed by "news fatigue." This has already affected media audiences and poses new challenges for journalists.
The 24th International Symposium on Online Journalism (ISOJ) will gather media analysts, strategists and researchers to discuss solutions to news avoidance – when consumers avoid reading, watching or listening to news.
The panel "How to respond to news avoidance and reconnect with audiences through new approaches" will take place from 3:30 to 4:20 p.m. U.S. Central Time on Saturday, April 15. The discussion will be live in-person from Austin, TX and available virtually with conference registration.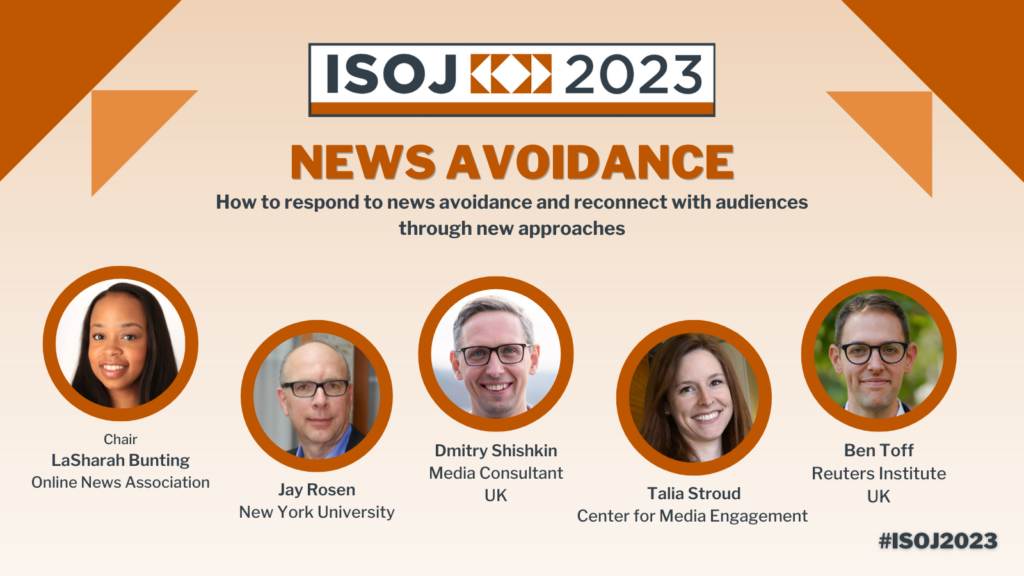 LaSharah Bunting, CEO and executive director of the Online News Association (ONA), will moderate the conversation. The distinguished panel includes:
Ben Toff is a leading researcher at the Reuters Institute dealing with the news avoidance phenomenon. "When I first set out to study this subject, there weren't a lot of us researching news avoidance, but after a global pandemic and several highly contentious political events around the world, so many people have become interested in the subject, want to talk about it, and are looking to make sense of it. I hope we can help clarify what this phenomenon is all about and what it reveals about how people relate to news in the contemporary media environment," said Toff, whose research looks into the study of public opinion, trust in news, and changing journalistic practices.
Toff said that he hopes the panel discussion will lead to "concrete ideas around how news organizations can better serve the entire public, not just the most privileged and comfortable audiences who already voraciously read, watch, and listen to what they publish."
You can hear from more speakers at ISOJ 2023 on April 14 and 15, 2023. Register now to engage in this exciting discussion!
ISOJ, which began in 1999, brings together journalists, media executives, scholars and students to discuss the impact of technology on journalism today and in the future. It is an innovative conference that bridges the gap between the news industry and academia. 
For updates and additional information, you can visit ISOJ's website, Twitter, Facebook, and LinkedIn. If you have any questions, please contact us at isoj@austin.utexas.edu.