'Exile Journalism:' ISOJ to discuss how journalists use technology to cover the countries they were forced to abandon
They work in newsrooms that have been relocated to neighboring countries, or sometimes, much farther from home. They left after being imprisoned, threatened with criminal charges, or labeled as "foreign agents." Despite all this, they continue to report on the places they left behind.
Cases of "exile journalism" have been proliferating around the world and will be discussed at the 24th International Symposium on Online Journalism (ISOJ) at the University of Texas at Austin.
The panel will have speakers from four countries – Guatemala, Myanmar, Nicaragua and Russia – where independent journalists have suffered persecution from authoritarian regimes.
"Exile journalism: Forced out of their countries, journalists use technology to report from abroad and have impact back home," will take place on Saturday, April 15, as part of ISOJ 2023. Register now to attend.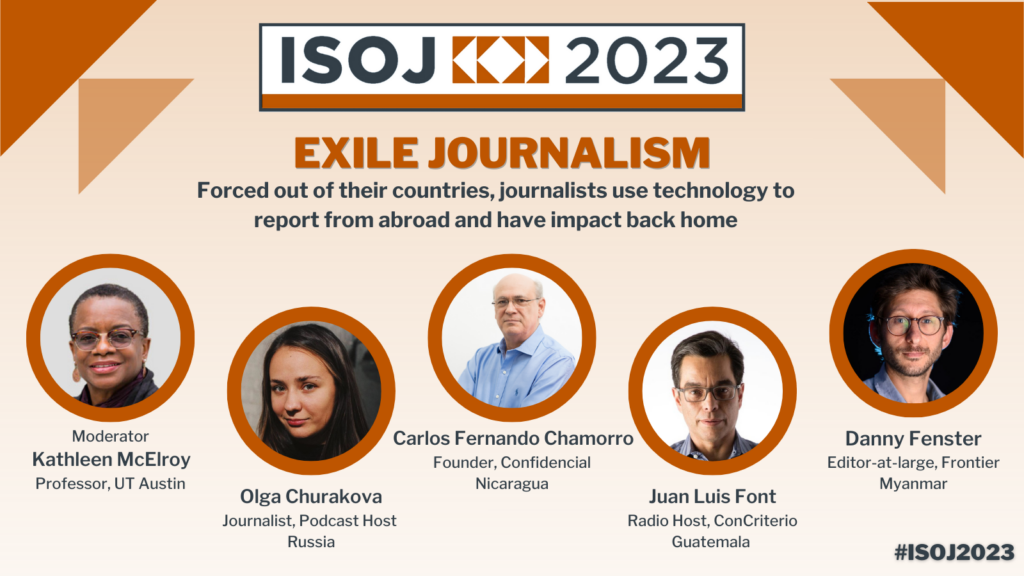 Kathleen McElroy, professor in the School of Journalism and Media at the University of Texas at Austin, will moderate the panel with Olga Churakova from Russia; Carlos Fernando Chamorro from Nicaragua; Juan Luis Font from Guatemala; and Danny Fenster, editor-at-large of Frontier Myanmar.
Churakova is a Russian journalist and host of the award-winning podcast, "Hi, You're a Foreign Agent." While working for investigative journalism outlet Proekt, she wrote about corruption, internal Russian policies and protests in Belarus. In 2021, authorities designated Churakova as a "foreign agent" and labeled Proekt an "undesirable organization," which led to its closure. Churakova's designation meant that she had to publish a lengthy disclaimer with her work and send financial reports to authorities, or incur fines and jail time. She is now outside of Russia and is a Nieman Fellow at Harvard University.
Chamorro is founder and director of Nicaraguan digital news outlet Confidencial and news program Esta Semana. A well-known critical voice of the government of Daniel Ortega, he fled Nicaragua for a second time in June 2021 "to safeguard his freedom" after police raided his home. Just a month earlier, police raided the studios of Esta Semana and Confidencial for the second time. In August 2021, authorities imposed multiple criminal charges on Chamorro. He now works in exile from Costa Rica.
Font is director and host of news radio show Con Criterio. He left Guatemala in 2022 after a former communications minister brought a second criminal lawsuit against him. A potential conviction carries up to eight years in prison. Font has been involved in the creation of multiple media outlets in Guatemala, including Revista ContraPoder, elPeriódico and Diario Digital. He now broadcasts ConCriterio TV and Radio ConCriterio from the U.S.
Fenster is editor-at-large for the award-winning investigative news magazine Frontier Myanmar. Following his reporting on military-linked businesses, Myanmar's military junta imprisoned him. He was convicted on multiple chargesand received an 11-year sentence before being pardoned. He was also charged with sedition and terrorism, but the charges were later dropped before he went to trial. After spending six months in prison and following negotiations between the military and former U.S. diplomat Bill Richardson, Fenster was released and returned to the U.S. He is now a Nieman Fellow at Harvard University.
In the cases of all four of these journalists, their persecution is part of a larger crackdown by authorities on critical voices.
These journalists will explain why they were forced to leave their homes and newsrooms, and how they continue to work and cover the countries they had to abandon.
The panel speaks to the heart of how the internet can expand opportunities for journalism, especially when that exercise is limited or prohibited by authorities.
Registration is now open for ISOJ 2023 and virtual and in-person participation is available.
ISOJ, an annual gathering of journalists, media executives and scholars, will take place online and in person at the AT&T Hotel and Conference Center at the University of Texas at Austin on April 14 and 15, 2023.
More information about the conference, including a program and list of speakers and their biographies, is available at isoj.org.