ISOJ announces program for 23rd global conference taking place in Austin and online; Registration open
The Knight Center for Journalism in the Americas announced the program for the 23rd International Symposium on Online Journalism (ISOJ).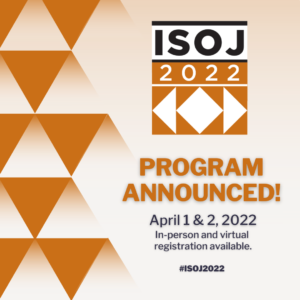 The global conference, taking place online and in person on the University of Texas at Austin campus, will be on April 1 and 2, 2022. Panels cover topics including the impact of web3 and metaverse on the new industry, the extraordinary growth of nonprofit journalism, new models for local news, diversity in newsrooms and in the news, mental health and the wellbeing of journalists, AI and the news, audio journalism and social audio, and more.
Registration opened last week for the hybrid conference, with a variety of prices and ways to participate. Read more about the two modalities of the conference here.
This year's in-person portion of ISOJ will take place at the Zlotnik Family Ballroom at the AT&T Hotel and Conference Center on the UT Austin campus.
A growing list of speakers is also available on the ISOJ website.
Keynote speakers include Katrice Hardy, executive editor of The Dallas Morning News, who will talk about digital strategies at the metro paper. Richard Gingras, vice president of news at Google, will deliver the talk "Key questions for journalists seeking to reinvent journalism for our digital age." Gina Chua, executive editor at Reuters, will focus on the need to revisit the concept of news with the keynote "New: What is it, who is it for, and how can we rethink it for the digital era?" And last, but certainly not least, Jorge Ramos, news anchor at Univision Noticias, will focus on "The role of journalism when democracy is at risk."
ISOJ, which began in 1999, brings together journalists, media executives, scholars and students to discuss the impact of technology on journalism today and in the future. It is an innovative conference that bridges the gap between the news industry and academia. View video and coverage of past ISOJ conferences at isoj.org.
For updates and additional information pertaining to ISOJ 2022, you can head over to ISOJ's website, Twitter, Facebook, and LinkedIn. If you have any questions, please contact us at isoj@austin.utexas.edu.
And, after you check out the terrific program, don't forget to register for this great two-day event! We'll see you in Austin or online!