Journalism scholars to present diverse research findings during ISOJ 2023
For almost two decades, research has been a vital component of the International Symposium on Online Journalism (ISOJ), with the participation of scholars in online journalism from around the world.
Two sessions of ISOJ 2023 will feature several presentations on the findings of research projects on a variety of topics related to the evolution of journalism in the digital age, including peer-reviewed articles submitted to a competitive process for publication in the conference journal.
On Friday, April 14, at 1:15 p.m. U.S. Central Time, scholars whose work is featured in volume 13 of the #ISOJ Journal will present their peer-reviewed research during the main plenary session. The journal will be published online at isoj.org that same day.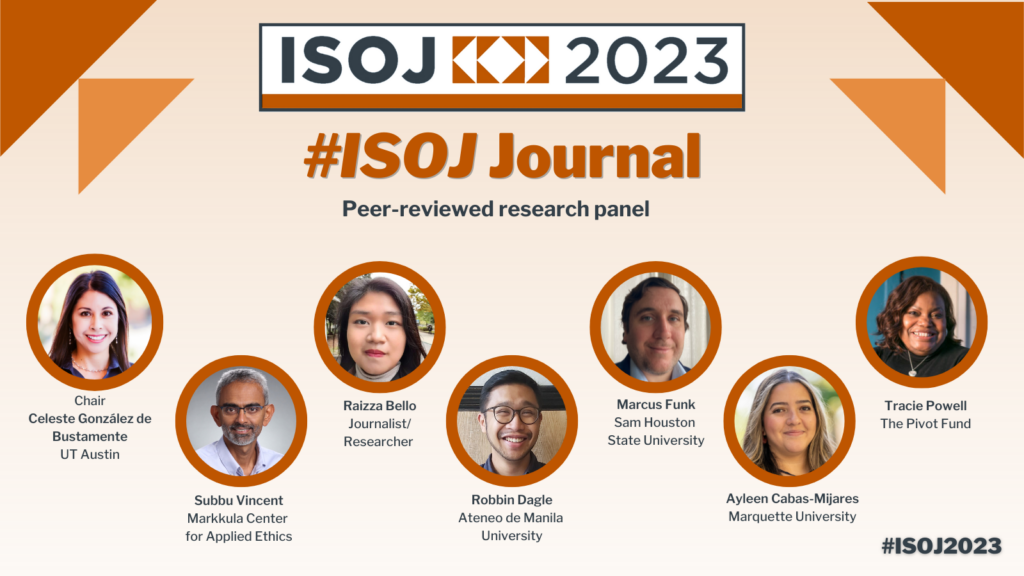 The research panel will be led by Celeste González de Bustamante, professor and associate dean at UT Austin's Moody College of Communication. She will be joined by authors of the paper published in #ISOJ Journal:
The research component of ISOJ was added in 2004 and #ISOJ, the official research journal of the conference, was subsequently launched in 2011. The #ISOJ Journal features articles based on original research, methodologies relevant to the study of journalism and innovative technologies, critical syntheses of research and theoretical perspectives on journalism today.
Then, on Saturday, April 15 at 8:00 a.m. U.S. Central Time, more scholars will present their current research at a breakfast.  It is open to all ISOJ registrants, but in person attendees must register separately. It will be held in English, without interpretation.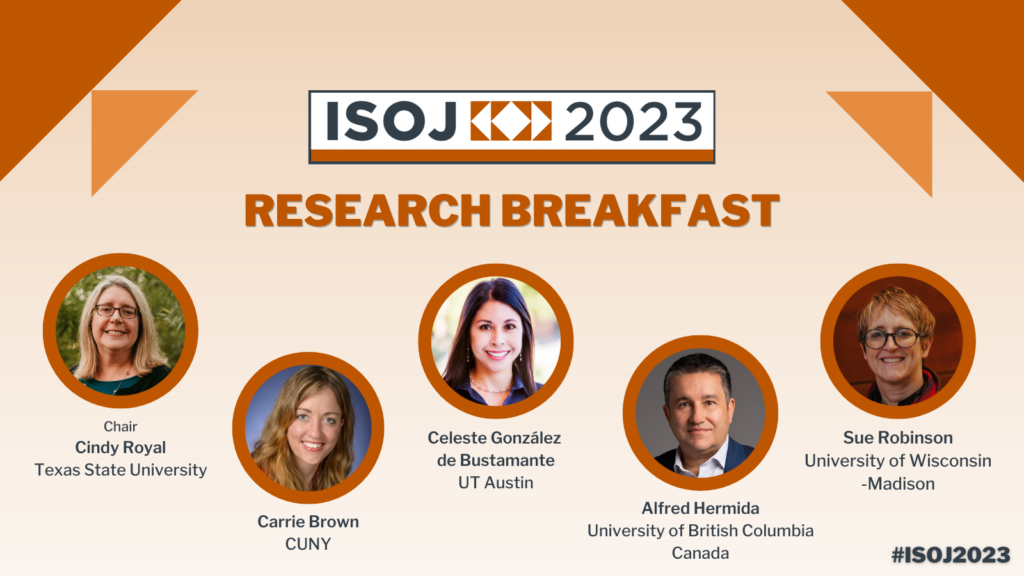 The breakfast is chaired by Cindy Royal, a professor in the School of Journalism and Mass Communication at Texas State University where she is the founding director of the Media Innovation Lab.
It will include research from:
Be part of ISOJ's rich tradition of reviewing the latest in online journalism scholarship and plan to attend these sessions next week!
ISOJ, which began in 1999, brings together journalists, media executives, scholars and students to discuss the impact of technology on journalism today and in the future. It is an innovative conference that bridges the gap between the news industry and academia. 
For updates and additional information, you can visit ISOJ's website, Twitter or Facebook. If you have any questions, please contact us at isoj@austin.utexas.edu.