ISOJ panelists to discuss lying in politics, weaponization of fake news and attacks on journalists
The world is seeing fake news and lies from politicians spread like wildfire, and many journalists who do the job of holding political power to account have become targets themselves.
At the 24th International Symposium on Online Journalism (ISOJ), which takes place this week from April 14 to 15, experts in political mis- and disinformation, as well as journalists who have been on the receiving end of political lies, will convene for a special panel.
"Lying in politics, weaponizing fake news and attacking journalists: What have we learned so far and how to react to the infodemic?" is happening on Friday, April 14, at 4:45 p.m. U.S. Central Time.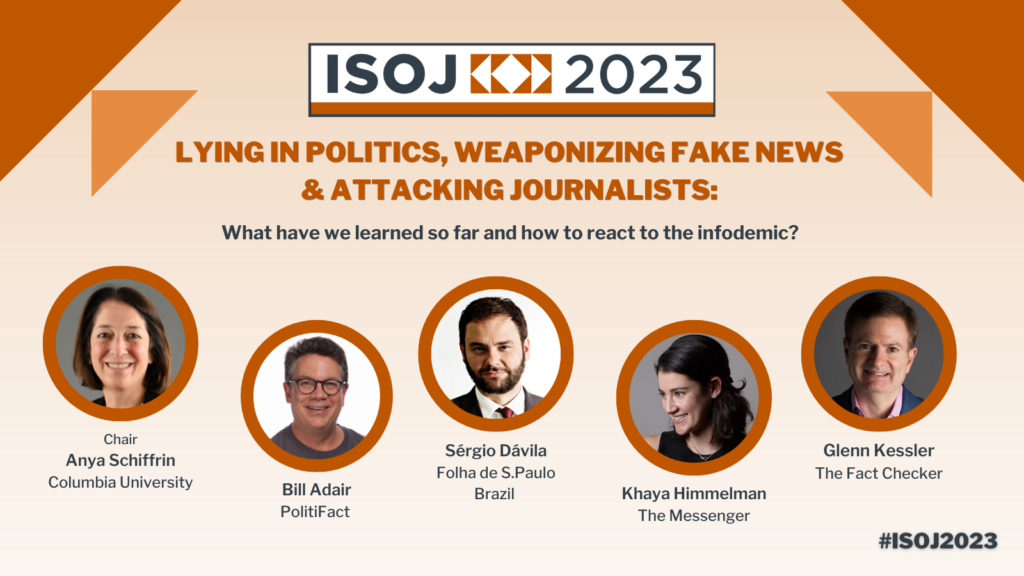 There's still time to register for ISOJ and join us in person or virtually, however, registration will close soon.
Chair Anya Schiffrin, director of the technology and media specialization at Columbia University's School of International and Public Affairs, will be joined by:
"It's no secret that around the world many politicians have used journalists as a scapegoat and attacked the media," Schiffrin said. "[Former U.S. President] Trump, [Indian Prime Minister Narendra] Modi, [former Brazilian President Jair] Bolsonaro are extreme examples. This has created a climate of mistrust and the feeling that it's acceptable to attack journalists."
That dangerous environment exists alongside the spread of mis- and disinformation. So, how to solve it?
"There are a number of different ways to address the problems of online/mis disinformation. I use a simple framework: supply and demand," said Schiffrin, who recently authored a report for the German Marshall Fund, "AI Startups and the Fight Against Mis/disinformation Online: An Update."
"Demand-side solutions emphasize the role of the consumer while supply-side solutions emphasize the supply of information," she continued.
Schiffrin breaks down supply-side solutions into two parts: suppressing poor quality/dangerous or illegal information and creating and/or promoting high-quality information such as quality journalism.
On the demand side of things, she emphasizes efforts to teach media literacy, the promotion of community engagement and verification efforts, like labeling and fact checking.
To continue this conversation, join Schiffrin and an esteemed group of panelists for this important conversation on how journalists can react to the infodemic. There's still time to register for ISOJ, so sign up today!
ISOJ, which began in 1999, brings together journalists, media executives, scholars and students to discuss the impact of technology on journalism today and in the future. It is an innovative conference that bridges the gap between the news industry and academia. 
For updates and additional information, you can visit ISOJ's website, Twitter or Facebook. If you have any questions, please contact us at isoj@austin.utexas.edu.