Satire prompts dialogue on sensitive topics, say ISOJ panelists
Watch video of the satire panel discussion from ISOJ 2018.
Using satire and humor can create dialogues around sensitive and controversial topics, especially in countries with restricted freedom of expression, according to panelists at the 19th International Symposium on Online Journalism (ISOJ) on April 14.
The panelists said humor makes it possible to address people in powerful positions and hold them accountable. Satirical news organizations can also touch topics that may be off limits to traditional media, they said in a conversation moderated by María Teresa Ronderos, director of the Open Society Program on Independent Journalism.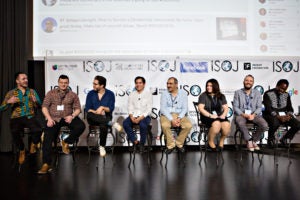 Satire is a "last resort in many ways" for areas without full rights to freedom of expression, according to panelist King Kahiga Muriuki from Buni Media in Kenya.
"The Kenyan government doesn't have a good track record with freedom of the press," he added.
Yet, Muriuki said his team have been able to use satire to their advantage, allowing them to touch on sensitive topics.
"Satire is an important and often untouchable tool, where conversations deemed too sensitive or too controversial should happen," he said.
Panelist Samm Farai Monro, founder of the Magamba Network in Zimbabwe, echoed this, saying his organization provides a different narrative than that of the state-owned TV station in the country.
He joked that people in Zimbabwe have freedom of expression, but "we just don't have freedom after expression." Although the organization has faced threats of a shutdown and its producer was arrested, journalists continue to create video content.
"It's gotten us into a lot of trouble, but we're reaching a large youthful audience," he said.
Several of the organizations represented on the panel said they use satire to highlight the truth, which can be difficult to find in certain countries' media environments.
La Mesa de Centro, a news organization in Colombia, uses satire to counter false narratives in a region where few media organizations are unaffiliated with outside influences, according to the news website's creator Carlos Cortés.
In order to combat misinformation, the organization creates videos with characters that use satire to counter the government's narrative in the hopes that it will make people more engaged with truth.
"We want to engage people in politics, we don't want to alienate them," Cortés said.
Šatro, a media outlet in Bosnia and Herzegovina, does something similar to La Mesa Centro, according to its Executive Director Haris Dedović. The organization attempts to fact check using humor.
"What we do is try to mock some things that are in mainstream media … and we try to point [narratives] in the right direction, and we believe we are doing so, especially with younger people," he said.
One way to point narratives "in the right direction," is to stay on top of current events and create satirical content that's timely, according to El Chigüire Bipolar co-founder Juan Andrés Ravell. He said this helps the truth survive in a difficult political environment.
"Timing is important … we basically inform our audience," he said about how the organization's topics address current events in Venezuela. This makes the organization able to not only keep its readers engaged with current events, but also offer commentary on issues and events.
An Armenian group, Umbrella Journalists' International Network NGO, also uses satire to comment on political news, said Marianna Grigoryan, co-founder and president. She said this helps people "understand their realities."
"Our cartoons bring very active discussion … Every day our readers wait to see what our reaction will be to an event," she said.
And cartoons and other forms of satire can truly change narratives and prompt deep discussions, according to the panelists.
Medialab.am found that its cartoons created dialogues in Armenia, which he said has been heavily policed and censored. Vahe Nersesian, co-founder and cartoonist for Medialab.am, said he recognized this after they had an outdoor exhibition of its cartoons.
"We realized our cartoons are important and have power," he said.
Inciting conversations is an essential responsibility of satire news organization — even if it's not always a pleasant conversation, said Isam Uraiqat the editor of Alhudood, a pan-Arab political satire website.
Alhudood has set up a chatbot that allows its readers to interact with the news organization. It has an option to let people cuss at the chatbot and then it walks people through the steps of clarifying what made them angry.
"We kind of force them to articulate their anger into a conversation," he said.
This is one of the many roles that satire should play, Uraiqat said. It's about prompting conversations and deeper discussions on conversations that people tend to shy away from, he added.
"Satire is about being able to laugh at yourself, being able to see your own mistakes…. and it's about not treating leaders as untouchable entities," he said. "It's taking things less seriously, but paradoxically it's also taking things more seriously because you're engaging people in topics that they've stopped caring about."