ISOJ panel to discuss different ways journalism is embracing audio to engage readers
More than a century after Guglielmo Marconi demonstrated the commercial potential of radio telegraph signals, audio is now seen as the latest platform that could improve engagement between news organizations and audiences, a topic to be tackled by a Saturday afternoon panel at the International Symposium on Online Journalism.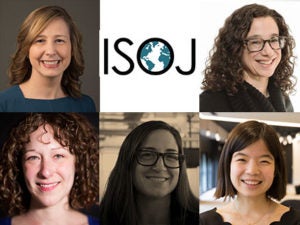 The panel — AUDIO: From podcasts to Alexa, Hey Google and Siri, journalism is raising the voice — will be chaired by Kathleen Kingsbury, deputy editorial page editor at The New York Times.
Kingsbury, who won a Pulitzer at the Boston Globe before jumping to The New York Times in 2017, will be joined by a journalist from one of The Times' fiercest competitors.
Anne Li, the interactive audio producer at the Washington Post, said she is interested is seeing this panel "delve into how the user experience and expectation of audio journalism changes when the listener has the option of interacting with their devices, and how that affects how audio teams think about what products are suitable for those platforms."
"For example," she continued, "smart speaker listeners can only listen to their device when they're at home (or wherever their device is), so they tend to listen on weekday mornings while they're getting ready for the day. Smart speaker listeners also expect up-to-date news from their devices in a way that podcast listeners don't. We've been experimenting a ton with our news briefings in order to understand and meet smart speaker listener expectations."
Li is confident that "voice interaction is a technology that is here to stay." She cited the 2018 Infinite Dial report, which shows more than 50 million Americans have a smart speaker in their home, an audience that many observers expect will continue to grow.
The Post has been experimenting with Amazon's Alexa since 2015, and Li was hired in April 2017 to "work with our audio and product teams to focus on our smart speaker products and create news briefings for The Post. That's basically smart speaker lingo for a short podcast that users can curate into a playlist that plays when you say, 'Alexa/Ok Google/Hey Siri, what's in the news?'
"We launched three daily briefings last year: The Daily 202's Big Idea, which is our politics brief, Retropod, which takes you into a forgotten moment in history, and Capital Weather Gang, which is a weather update for the D.C. area."
Li will be joined on the panel by Tamar Charney, managing editor at NPR One. A veteran radio journalist, Charney creates and directs news programs and podcasts that can be heard on the NPR One app, Alexa, xBox, car dashboards, and televisions.
Jillian Weinberger, a senior producer for audio at Vox Media and Vox.com, will also be in attendance. Weinberger is an experienced audio journalist who previously produced podcasts for WNYC Studios and was a news producer on WNYC's The Takeaway.
Rounding out the Saturday afternoon panel is another former WNYC journalist, Caitlin Thompson, the U.S. director of content for Stockholm-based Acast. Calling itself "a curated platform for podcasts," Acast brings together listeners, podcasters and potential advertisers. Thompson is also the publisher of the quarterly magazine Racquet.
In an article for the Nieman Lab's annual list of media predictions for the upcoming year, Thompson said a pivotal moment in the audio industry occurred in December when Apple purchased Pop Up Archive, an Oakland-based podcast search startup. Not only is Apple now in the podcasting game, competing against Google, Amazon and even Acast, but perhaps more importantly, Thompson noted, Apple is betting the podcasting audience will grow as more smart devices find their way into American homes.
"Search, in-home devices, and native apps are all muscling into a territory that they will help expand quickly, giving podcast creators tremendous new freedom in storytelling formats and even revenue models," Thompson said.
"When podcasting reaches its potential size, looking more like peak radio penetration thanks to these many new and improved sources of discovery, we'll start to see several revenue models arise to support the diversity of content now possible by untethering the form from RSS — short-form, daily, one-offs — supported by ads, subscription, or in-app purchasing like Acast Plus and many others, finally yielding the diversity that has always been podcasting's essential promise."
This audio panel will close the 19th annual ISOJ. It will take place at the Blanton Museum of Art on the campus of the University of Texas at Austin April 13-14. ISOJ attracts media executives, professionals and academics from more than 40 countries.