ISOJ panelists will dig deep into journalists' use of tech tools such as AI, AR, blockchain and machine learning
A Saturday morning panel at the 19th International Symposium on Online Journalism, taking place in Austin, Texas, April 13-14, promises to look behind the curtains of the next technological waves to buffet, if not enhance, journalism and news engagement.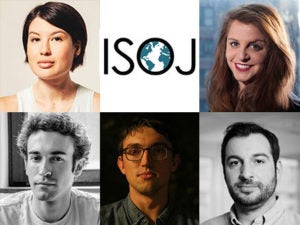 The panel — WHAT'S NEXT: Artificial intelligence, machine learning, blockchain, augmented reality and other tech trends that will impact journalism — will be chaired by Mia Tramz, managing editor of LIFE VR, a virtual reality initiative launched by Meredith, formerly Time Inc.
Tramz joined Time Inc. as a photo editor in 2013, eventually embracing VR and other emerging technologies, leading to the creation of Time's first underwater 360 video.
Tramz, who will also be presenting, will be joined on the panel by four professionals.
Jeremy Merrill, a news apps developer at ProPublica. For Merrill, the benefits of artificial intelligence (AI) and machine-learning tools are clearly evident.
"The go-to metaphor — that I didn't come up with — is that, as techniques get easier and computers get cheaper, machine learning will give you basically unlimited interns — they're unpaid and they work fast, but unlike human interns, they're not very bright and they can't use the phone," Merrill said via email.
"It'll be revolutionary for the portions of our jobs as journalists that you can get the metaphorical intern to do. Already, we're seeing a lot of fruitful machine-learning work in investigative journalism: where there are huge numbers of documents to sort through or airplane flight paths to be categorized or press releases to be categorized."
Merrill suggests media executives should not only hire tech talent to put AI and machine-learning techniques to work for a variety journalism projects, but also to better inform the audience. Algorithms, he asserts, are "a bigger and bigger part of how our everyday lives work, in terms of what you see on Facebook, what you pay for car insurance — as my colleagues have shown — or sentence convicted criminals."
He is also concerned about the dark side of technological advances, such as "deepfakes," the use of machine learning to create realistic but fake videos of people "saying or doing anything. We have to be on the lookout for this sort of fake stuff coming in over the transom, trying to make news orgs look like idiots. The videos can be literal 'fake news.'"
Also on the panel is Deborah Basckin, an NBC producer using VR tools to create short videos, or "linear, mixed reality features" at NBC Left Field, an experimental video unit launched in July 2017.
With a small team of 12 journalists, Basckin said she and her colleagues strive to be "more agile in generating content."
Their goal, based on NBC's broadcasting heritage, is "to capitalize on advancements in VR technology to create something for a popular platform," Basckin said in an email. "As everything is an evolution, and lots of people don't yet have access to VR setups of their own just yet, this format utilizes some of the amazing things VR can do right now, for more traditional output."
The panel is rounded out with Zach Seward, chief product officer, executive editor and a co-founder of Quartz, and Jarrod Dicker, CEO of Po.et, which is using blockchain technology to build a "bridge between creators and publishers."
A veteran of The Washington Post, Huffington Post and Time Inc., Dicker, in a post on Po.et, said this new venture "is a shared, open-source universal ledger designed to track ownership, attribution and the marketplace flow of the world's creative assets through a never-before-imagined chain of value."
Seward is former reporter at the Wall Street Journal, and also that business newspaper's first social media editor. He recently encouraged Quartz readers to engage with the online news source via Facebook Messenger.
Registration for the 19th annual ISOJ has closed, but live streaming will be available at isoj.org and on Facebook and YouTube.