ISOJ panelists will discuss benefits and costs of government subsidies and regulations on journalism
When the U.S. House of Representatives passed the Build Back Better bill in November 2021, there was a line that caught the attention of many in the journalism community: "Payroll credit for compensation of local news journalists."
The price tag was $1.67 billion over five years, and the money would go to newspapers, websites, radio and TV stations and other local news-focused outlets.
Policy that helps journalism is an exciting prospect for many, but not everyone agrees on whether the government should be in the business of helping journalists and the journalism industry.
An expert panel will discuss the topic in the global context during the 23rd International Symposium on Online Journalism (ISOJ), hosted by the Knight Center for Journalism in the Americas in person in Austin, Texas and online.
"Subsidies and Regulations: How government initiatives may affect journalism and the digital media ecosystem" will be held on April 1 at 4:45 p.m. U.S. Central Time.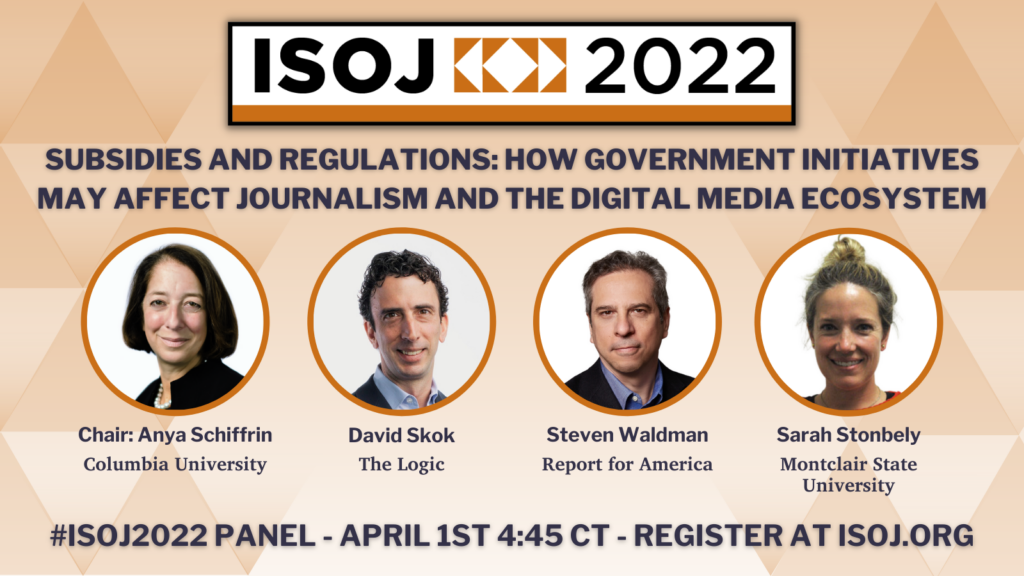 Panelists include:
"Of all of the many efforts that have been undertaken to support local journalism in the current moment, innovative means of public funding are to me the most exciting," Stonbely said. "I'm thrilled to be part of this panel and this discussion."
"During the COVID-19 pandemic, we've seen many good ideas about how to save journalism and support quality information," Schiffrin said. "The journalism community in much of the world is galvanized to make change happen  and they're ready to persuade the public  and policy makers both that something needs to be done and that something can be done."
For Waldman, this panel is extremely timely.
"There is, for the first time in decades, real interest and momentum for public policies that could help local news. It's crucial that we get this right," he said.
In a recent episode of 60 Minutes Overtime, Waldman pointed to the existence of government policies for news media since the country's inception.
"The founding fathers actually instituted a postal subsidy to make it really cheap to mail newspapers around the colonies and around the country," he said. "It was actually a huge amount of money and it helped create the modern newspaper industry."
That episode looked at a new piece of proposed legislation in the U.S. – H.R. 3940, or the Local Journalism Sustainability Act – which contains part of the Build Back Better bill that did not make it through the Senate. In addition to payroll tax credits for local news journalists, the bill provides income tax credits for individuals who purchase a local newspaper subscription, and gives small businesses tax credits for local newspaper and media ad expenses.
"Government support has to be done really carefully. And, if you do it in a way where the tax credit or the benefit is going based on a content-neutral formula where you basically set up rules ahead of time and then whoever qualifies gets it, you can do it without news organizations losing their independence," Waldman said.
Skok says the United States' neighbor to the north may provide some lessons for government intervention in the journalism world.
"We can peer into the future by learning about Canada's experience with journalism subsidies," Skok said. "I hope to offer some nuanced critiques and solutions to avoid some of the pitfalls that legislation in Canada has created."
The conversation will continue at ISOJ both virtually virtually and in person this year.
The symposium will be held in a new venue, the Zlotnik Family Ballroom on the UT Austin campus. But, we will also have innovative ways for virtual attendees to participate and take part in the learning (and fun!) So, don't forget to register today!
You can also view the conference program to see who else will be presenting and speaking at this unique global symposium.
ISOJ, which began in 1999, brings together journalists, media executives, scholars and students to discuss the impact of technology on journalism today and in the future. It is an innovative conference that bridges the gap between the news industry and academia. View video and coverage of past ISOJ conferences at isoj.org.
For updates and additional information pertaining to ISOJ 2022, you can head over to ISOJ's website, Twitter, Facebook, and LinkedIn. If you have any questions, please contact us at isoj@austin.utexas.edu.