ISOJ panelists to sort through the hype surrounding web3 and the metaverse
So, what's the deal with web3 and the metaverse anyway? And, should we be paying attention to how it might impact journalism as an industry and practice?
An esteemed panel of experts on the topic will wade through the maze of blockchain and NFTs, as well as augmented (AR), virtual (VR) and extended reality (XR) during the 23rd International Symposium on Online Journalism (ISOJ) on Friday, April 1, 2022.
The panel "Hype or not, how and when will web3 and metaverse impact journalism?" will be held on the first day of the conference at 11:00 a.m. U.S. Central Time.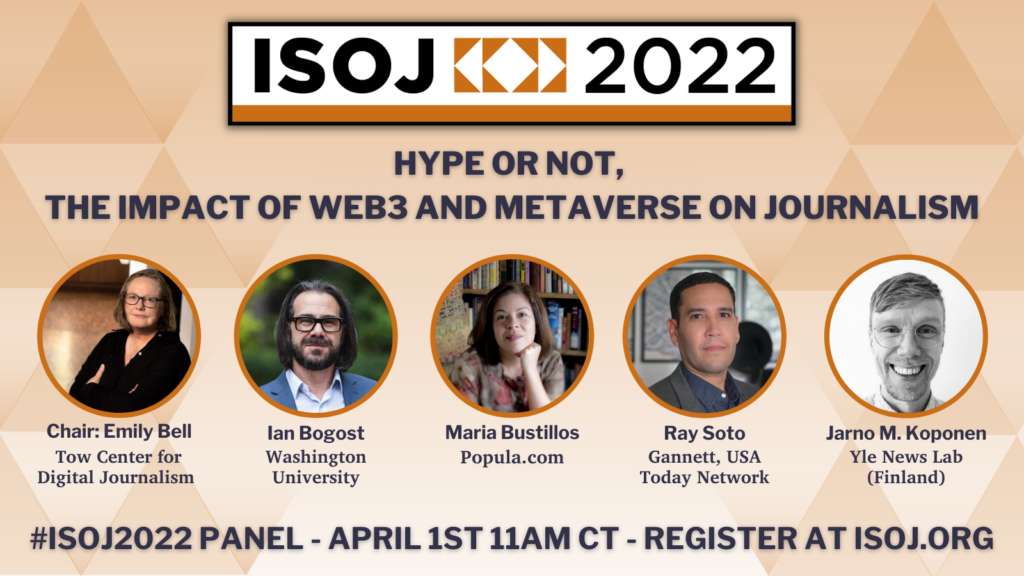 Panelists include:
ISOJ started in 2015 to open space for discussion about the arrival of virtual reality journalism and using immersive 3D devices for experiential storytelling. As that world has expanded and web3 has become part of the national discussion in recent years, the topics take the mainstage once again at ISOJ.
Keeping in line with this innovative spirit, ISOJ itself will take place virtually and in person this year, with a range of prices that will allow for as large a group as possible to participate. Register is now open, so reserve your spot today.
You can also view the conference program to see who else will be presenting and speaking at this unique global symposium.
ISOJ, which began in 1999, brings together journalists, media executives, scholars and students to discuss the impact of technology on journalism today and in the future. It is an innovative conference that bridges the gap between the news industry and academia. View video and coverage of past ISOJ conferences at isoj.org.
For updates and additional information pertaining to ISOJ 2022, you can head over to ISOJ's website, Twitter, Facebook, and LinkedIn. If you have any questions, please contact us at isoj@austin.utexas.edu.