Employing satire to put politicians under the microscope is an important tool for international journalists on ISOJ panel
Satire as a journalistic tool is a serious business, especially for journalists around the world who do not have the protections afforded late night U.S. television hosts.
Members of a Saturday morning ISOJ panel — GLOBAL ROUNDUP: How news organizations are using satire online around the world — are looking forward to the discussion chaired by María Teresa Ronderos, director of the Program on Independent Journalism at Open Society Foundations.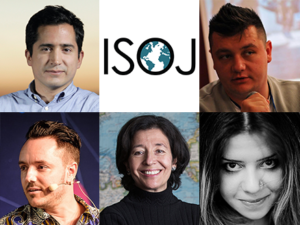 Samm Farai Monro (aka Comrade Fatso), co-founder of the Magamba Network in Zimbabwe and an executive producer for Magamba TV, believes "satire is such an important and hugely growing trend globally. I look forward to seeing at ISOJ how we can build global synergies of those using satire to speak truth to power."
The award-winning satirist and comedian, whose work has appeared on BBC, Channel 4 (U.K.), The Guardian and CNN, said satire is a tool to inspire young people to become involved in transforming Zimbabwe.
"Some of our most popular shows ever were released during the coup against former President [Robert] Mugabe in November 2017 where we were mocking the military intervention. Because of our satire we have had team members arrested, we have been accused of attempting to overthrow the government and our offices have been raided by the police," Monro said in an email.
"But we keep going because you can't stop the hunger for laughter and the desire for change."
Isam Uraiqat is editor of the online satirical website al-Hudood (or The Limits), which was described by The Guardian as an "Onion-style website poking fun at the Middle East."
"When we started it [in 2013], it was like: 'Why the hell is there no Onion for the Middle East?'" Uraiqat, a Jordanian-Palestinian, told The Guardian. "Everybody thinks what goes on in their countries is stupid but our patch of the world is still a bit more insane than everywhere else."
At ISOJ, Uraiqat said in an email he is curious to hear what other panelists have to say about "how organizations avoid creating echo chambers of people who already like satire and value freedom of speech."
Uraiqat is interested in "how far organizations delve into the role of journalism and where they draw the line, and how they see the relationship between satire and journalism evolving in their respective countries."
Like almost any journalist in the digital age, Uraiqat also wonders about sustainability, how satirical news organizations can survive financially when funding is difficult to source.
"In Bosnia and Herzegovina," said Haris Dedović, editor-in-chief of Šatro Info, "we are struggling a lot with reality and real news. This is one of our issues that we are facing throughout our work."
In addition to editing Šatro Info, a political satire magazine based in Sarajevo, Dedović is also executive director of the Association for Media and Civil Society Development, a non-governmental organization focused on contributing to the development of media and civil society in Bosnia and Herzegovina.
When asked via email what the future of satire and journalism might look like if he had a crystal ball, Dedović replied: "I am afraid that it would 'play' [the] movie Idiocracy, since [the] U.S.A. is already relatively close to this. It is very ironic. We thought that in 2020 we would fly cars and have air-running motors. It is already 2018 and we are discussing: is the earth flat and do vaccines cause autism?"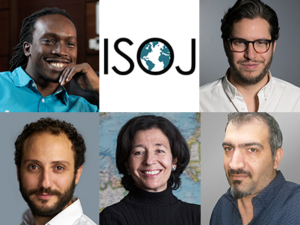 Other media professionals on this truly global panel include:
Juan Andrés Ravell is a co-founder of El Chigüire Bipolar (or Bipolar Capybara), one of a few satirical news outlets poking fun at politics in Venezuela. As the Knight Centre for Journalism in the Americas reported last fall, El Chigüire Bipolar "posts absurdly fake stories that resemble actual news."
Carlos Cortés is the creator of Colombia's La Mesa de Centro, a video blog that is part of the La Silla Vacía website. A media law professor and journalist, Cortés uses satire and commentary to skewer both politicians and the news media in Colombia.
King Muriuki is a producer for The XYZ Show, an award-winning creation of Buni Media in Kenya. Launched in 2009, Buni Media has since expanded from its Nairobi base to Los Angeles. The XYZ Show, also launched in 2009, is Kenya's first satirical political puppet show, not unlike the ground-breaking British show Spitting Image.
Cartoonist Vahe Nersesian is a co-founder of MediaLab in Armenia. Also an illustrator, writer and director, Nersesian's creations target not only Armenian politics and culture but also international issues.
Also from Armenia, Marianna Grigoryan is a co-founder and president of Umbrella Journalists' International Network NGO, which includes MediaLab and Comics, where Nersesian's work can be found. Grigoryan is a veteran investigative journalist and editor who has won numerous awards for her courageous efforts, including the Amalya Kostanyan award from Transparency International and OSF in 2017.