Nonprofit online journalism executives explain how sector has grown in size and strength over recent years
The Texas Tribune, a nonprofit news organization often studied and replicated by others around the world, has grown to 80 employees and raised $100 million since it launched in 2009.
While the viability and sustainability of nonprofit news were once questioned, it's a business model maturing in the U.S. and many others are joining the Tribune's ranks. A power panel of nonprofit online journalism organizations that have made headlines in recent months will open the International Symposium on Online Journalism (ISOJ).
The panel "Coming of Age: Nonprofit online journalism attracts big investments and creates sustainable models" will take place on April 1 at 8:45 a.m.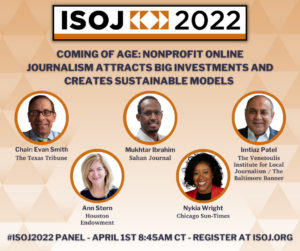 Represented on this panel will be the Sahan Journal, a nonprofit news organization covering Minnesota's immigrants and communities of color. It recently received a $1.2 million grant from the American Journalism Project.
Then there's The Venetoulis Institute for Local Journalism, a nonprofit news organization that oversees The Baltimore Banner. The digital news outlet plans to launch in 2022 with an annual operating budget of $15 million and a staff of 50 journalists.
And the Houston Endowment, a private foundation that, along with the Kinder Foundation and Arnold Ventures, recently announced a $20 million-investment for a new nonprofit newsroom in Houston.
Finally, there's the Chicago Sun-Times, which recently became a nonprofit after being sold to Chicago Public Media. The sale was backed by $61 million from foundations and individuals.
Panelists include:
Evan Smith, co-founder and CEO of the Texas Tribune, who is also chair of the panel.
Mukhtar Ibrahim, publisher & CEO of Sahan Journal.
Imtiaz Patel, CEO of The Venetoulis Institute for Local Journalism and The Baltimore Banner.
Ann Stern, president & CEO of the Houston Endowment.
Nykia Wright, president & CEO of Chicago Sun-Times.
To see who else will be speaking at ISOJ this year, view the conference program.
ISOJ, which began in 1999, brings together journalists, media executives, scholars and students to discuss the impact of technology on journalism today and in the future. It is an innovative conference that bridges the gap between the news industry and academia. View video and coverage of past ISOJ conferences at isoj.org.
For updates and additional information pertaining to ISOJ 2022, you can head over to ISOJ's website, Twitter, Facebook, and LinkedIn. If you have any questions, please contact us at isoj@austin.utexas.edu.
Don't miss this opportunity to hear from experts at the helm of some of the most exciting nonprofit journalism ventures in the U.S. Register today!