ISOJ panel of experts to tackle 'fake news' and verification of information
In this age of "fake news," trust in the news media has taken on a new, pressing importance, a topic to be discussed by a panel of experts Friday at the International Symposium on Online Journalism (ISOJ).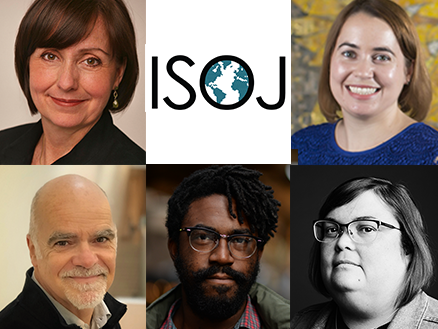 The panel — TRUST: Tools to Improve the Flow of Accurate Information — will be chaired by Jennifer Preston, vice president of journalism at the Knight Foundation. All panelists will also be presenting at the pre-ISOJ Demo Day sponsored by the Knight Foundation, "Prototypes to Battle Misinformation and Build Trust."
Preston is a longtime media practitioner, having worked at The New York Times for nearly two decades as a reporter, senior editor and digital journalist. The Knight Foundation recently held an event in New York City that focused in part on exploring "ways to restore trust between the media and diverse communities."
She will be joined by Lisa Fazio, an assistant professor at Vanderbilt University who recently wrote about the Moses Illusion for The Conversation. The Moses Illusion refers to the phenomenon of people repeating a mistake — it was Noah who populated the Ark with animals, not Moses — even though they have the knowledge to recognize the error.
Frédéric Filloux is a French journalist currently based at Stanford University as a John S. Knight Senior Research Fellow where he is working on his fact-checking creation Deepnews.ai. This initiative, formerly called the News Quality Scoring Project, uses machine learning and a scoring system to discern quality journalism, or value-added journalism, from fake news or clickbait nonsense.
Filloux is also editor of Monday Note, a newsletter about media and technology that lands in approximately 30,000 email boxes. It is also a blog hosted by Medium and republished by Quartz.
Based in Chicago, Darryl Holliday employs his journalistic and multimedia skills to steer City Bureau as editorial director and co-founder. Launched in 2015, City Bureau is a nonprofit "civic media lab" based on the Windy City's south side that strives to "bring journalists and community members together in a collaborative spirit to produce equitable media coverage, encourage civic participation and hold powerful forces to account."
City Bureau has recruited 330 civic journalists, or Documenters, Chicagoans who see a need to serve their specific community, "citizens who understand the value of reclaiming journalism and citizenship for the public," Holliday wrote recently in a Medium article.
Joan Donovan is the media manipulation/platform accountability research lead at Data & Society, a New York City-based nonprofit research institute "focused on the social and cultural issues arising from data-centric and automated technologies."
Data & Society has been targeting media manipulation with a series of reports, including one co-authored by Donovan called Dead Reckoning. Included among the authors' findings is that trust and verification is a strategy for blunting the spread of "fake news," in addition to "disrupting economic incentives, de-prioritizing content and banning accounts, as well as limited regulatory approaches."
Registration for the 19th annual ISOJ is closed, but the April 13-14 conference will be live-streamed on YouTube, Facebook and Isoj.org, including a channel with simultaneous translation to Spanish. For updates during the conference, follow ISOJ on Twitter at @ISOJ2018 or with #ISOJ2018. News will also be available on Facebook and Snapchat.
ISOJ, of which the Knight Foundation is a sponsor, takes place at the Blanton Museum of Art on the campus of the University of Texas at Austin, and it features more than 70 media executives, professionals and academics from 41 countries.