Registration is closed for ISOJ 2018, but sessions will be livestreamed at isoj.org
We've reached capacity for the 19th International Symposium on Online Journalism (ISOJ) and registration is now closed.
However, live streaming of the conference will be available on YouTube and Facebook, as well as isoj.org, including a channel with simultaneous translation to Spanish. For updates during the conference, follow us on Twitter at @ISOJ2018 or with #ISOJ2018. News will also be available on Facebook and Snapchat.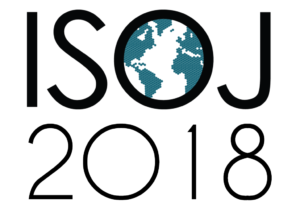 The 19th ISOJ will be held at the Blanton Museum of Art on the University of Texas at Austin campus. It is sponsored by the Knight Foundation, Google, Open Society Foundations, Univision Noticias, Facebook and The Dallas Morning News.
ISOJ is a unique conference that attracts journalists, media executives and students and professors of journalism from across the country and around the world. More than 400 attendees are coming to Austin from 41 countries, including the U.S.
The conference will featured simultaneous translation to Spanish thanks to support from Univision Noticias.
Seventy-two speakers and panelists will discuss innovations in digital journalism in the areas of audio, video, newsletters, satire, trust, revenue and more. Keynote speeches will be delivered by Meredith Artley, senior vice president and editor-in-chief of CNN Digital Worldwide; Marty Baron, executive editor of the Washington Post; and Ben Smith, editor-in-chief of BuzzFeed.
A keynote panel chaired by Jim Moroney, chairman, president and CEO of A.H. Belo Corporation, will look at newspapers in a post-advertising era. Panelists include Jim Friedlich, executive director and CEO of the Lenfest Institute for Journalism; Sara Glines, president and publisher of The News & Observer; David Perpich, president and general manager of Wirecutter; and Earl Wilkinson, executive director and CEO of the International News Media Association (INMA).
A special edition of the official research journal of the conference, #ISOJ, will be officially released during the conference. This year's journal edition, "Habits of Thought," is guest-edited by Jane Singer, director of research and professor of journalism innovation at City, University of London. Selected papers looked at the mindset of journalists in today's digital newsrooms and how they approach their work.
If you are registered for ISOJ, please remember to RSVP for all workshops and social events as space is limited. Links are highlighted below.
Before the official start of the conference, the Knight Foundation will host Demo Day: Prototypes to Battle Misinformation and Build Trust on April 12. A waitlist has been opened, but please register soon to ensure a spot.
During lunch on Friday, April 13, Google News Lab will host two workshops, one in English and another in Spanish, about Google Tools for Journalists.
Saturday, April 14, begins with a Research Breakfast on trends in online journalism research. During lunch that day, the Facebook Journalism Project will offer a workshop on Navigating News Feed changes with CrowdTangle.
And for the day following ISOJ, Sunday, April 15, the Knight Center will host the 11th Iberian American Colloquium on Digital Journalism for ISOJ attendees from Latin America, Spain and Portugal. The seminar, which is offered completely in Spanish, will look at online journalism innovations in the region. Register now.
The Tiny Texas Podcasting Fest, which is sponsored by the Dallas Morning News Endowment for Journalism Innovation at the University of Texas School of Journalism, will also take place on Sunday. Attendance is free, but space is limited.