The 21st ISOJ was held July 20 – 24, 2020.
For the first time in its 21-year history, the International Symposium on Online Journalism was online only in 2020. ISOJ Online was held during the week of July 20 to 24, 2020. Instead of the two full days, as we have had with the in-person conference in Austin, we scheduled ISOJ Online throughout chunks of time from Monday to Friday. Check the program, the amazing lineup of speakers and watch all sessions on YouTube, in English and with translation to Spanish. If you want to receive updates via email, please subscribe to ISOJ's mailing list by sending a message to isoj@austin.utexas.edu. Also, come back to our site for updates and follow us on Twitter, Facebook and LinkedIn.
News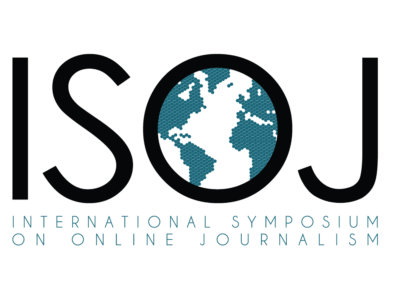 It broke our hearts last March when, for the first time since 1999, we had to cancel ISOJ, our beloved International Symposium on Online Journalism, which we annually host on campus, at the University of Texas at Austin every April. It took us a couple of months to figure out what the best way would … Read More
ISOJ 2020 Archive
Keynote speaker: Maria Ressa
Chair: Reg Chua, global managing editor, operations, Reuters
Maria Ressa, founder and CEO, Rappler, Philippines
Download Transcript
Brunch Workshop: No-code data journalism: How to go beyond infographics and engage audiences
Vera Chan, senior manager, worldwide journalists relations, Microsoft News Lab

Cathleen Crowley,data journalist, Albany Times Union

Verah Okeyo,Global Health Reporter and Project Lead for the Diversity and Inclusion, Daily Nation, Kenya
Download Transcript
Covering electoral campaigns in the digital age: Challenges of the 2020 presidential election in the U.S.
Chair: Evan Smith, co-founder and CEO, Texas Tribune
Laura Barrón-López, national political reporter, Politico

Katie Glueck, national politics reporter, The New York Times

Alexi McCammond, political reporter, Axios

David Weigel, national political correspondent, The Washington Post
Watch Panel Discussion
Download Transcript
The New Local News: Reinventing sustainable models to make local journalism survive and thrive in the digital ecosystem
Chair: Jennifer Preston, vice president, journalism, Knight Foundation
Sara Lomax-Reese, CEO, WURD Radio

Alison Go, chief strategy officer, Chalkbeat

Mandy Jenkins, general manager, The Compass Experiment (partnership Google-McClatchy)

Fraser Nelson, vice president of business innovation, Salt Lake Tribune

Chris Sopher, co-founder and CEO, WhereBy.us
Watch Panel Discussion
Download Transcript
Keynote session: Catherine Kim
Chair: Robert Hernandez, Professor of professional practice, University of Southern California
Catherine Kim, global head of digital news, NBC News & MSNBC
Download Transcript
Brunch Workshop: Artificial Intelligence and Machine Learning in the Newsroom
Michael Grant, Teacher Fellow, Google News Initiative (workshop in English)

Juan Manuel Lucero, Coordinator, Google News Initiative (workshop in Spanish), Argentina
Download Transcript
Journalism in a pandemic: Covering COVID-19 now and in the future
Chair: Deborah Blum, director, Knight Science Journalism program, MIT
Kai Kupferschmidt, contributing correspondent, Science, Germany

Helen Branswell, senior writer, infectious diseases, Stat News

Alvaro Pereira, reporter, TV Globo, Brazil

Vidya Krishnan, freelance journalist, Atlantic, Los Angeles Times, Caravan Magazine, India
Watch Panel Discussion
Download Transcript
Disinformation and Misinformation: What can be done beyond traditional fact-checking?
Chair: Talia Stroud,professor/director, Center for Media Engagement, University of Texas at Austin
Don Heider, executive-director, Markkula Center for Applied Ethics

Cristina Tardáguila, associate-director, Poynter's International Fact-Checking Network

Craig Silverman, media editor, BuzzFeed
Watch Panel Discussion
Download Transcript
Keynote session: Emily Ramshaw and Amanda Zamora
Chair: Matt Thompson, editor-in-chief, eveal from the Center for Investigative Reporting
Emily Ramshaw & Amanda Zamora, founders, The 19th
Download Transcript
Brunch Workshop: How journalists can use Tik Tok to find stories and monitor disinformation
Laura Garcia, training and support manager, First Draft
Download Transcript
All the president's attacks: Coping with governments that weaponize social media and campaign against independent media
Chair: Kathleen Kingsbury,editorial page editor,The New York Times , University of Texas at Austin
Sérgio Dávila, editor-in-chief, Folha de S. Paulo, Brazil

Peter Erdelyi, senior editor, 444.hu, Hungary

Anna Gielewska, political & investigative reporter, vice president of Reporters Foundation, Poland

Juan E. Pardinas, General Editorial Director, Reforma, Mexico
Watch Panel Discussion
Download Transcript
From problems to solutions: How solutions journalism can shift and shape media coverage
Chair: Mallary Tenore, associate director, Knight Center for Journalism in the Americas
Dahlia Bazzaz, Education Lab reporter, Seattle Times

Tina Rosenberg, co-founder and vice president of innovation, Solutions Journalism Network (SJN)

Brittany Schock, engagement and solutions editor, Richland Source
Watch Panel Discussion
Download Transcript
Research breakfast seminar: Gender, media, and politics in the digital age
Chair: Dustin Harp, associate professor and director, Women's & Gender Studies Program, University of Texas at Arlington
Regina Lawrence, professor/director, Agora Journalism Center, University of Oregon

Urszula Pruchniewska, assistant professor, Communication Studies, Kutztown University

Ingrid Bachmann, professor, Pontificia Universidad Católica de Chile, Chile
Watch Panel Discussion
Download Transcript
Keynote session: Nikole Hannah-Jones
Chair: Jeff Jarvis, director, Tow-Knight Center for Entrepreneurial Journalism, CUNY's Craig Newmark Graduate School of Journalism
Nikole Hannah-Jones, reporter, New York Times Magazine
Download Transcript
Brunch Workshop: Building Trust: Best Practices to improve engagement through transparency, inclusion and ethics
Sally Lehrman, chief executive officer, Trust Project
Download Transcript
Research Panel: Power, privilege and patriarchy in journalism: Dynamics of media control, resistance and renewal (peer-reviewed papers presentation)
Chair: Alfred Hermida, professor and director of the Graduate School of Journalism, University of British Columbia (Canada), guest editor of #ISOJ Research Journal
Insights, issues and ideas on power, privilege and patriarchy in journalism, Alfred Hermida

"We Are the 200%": How Mitú Constructs Latino American Identity Through Discourse, Ryan Wallace, University of Texas at Austin

Alternative professional journalism in the post-Crimean Russia: Online resistance to the Kremlin propaganda and status quo, Olga Lazitski, University of California, San Diego

#MarchForOurLives: Tweeted teen voices in online news, Kirsi Cheas, Maiju Kannisto, and Noora Juvonen, University of Turku, Finland

Send her back: News narratives, Intersectionality, and the rise of politically powerful women of color, Carolyn Nielsen, Western Washington University

Participatory journalism and the hegemony of men, Mark Poepsel, Southern Illinois University-Edwardsville
Watch Panel Discussion
Download Transcript
Product Management: How news organizations can become more audience-oriented, data-driven and product-focused
Chair: Cindy Royal, professor and director of the Media Innovation Lab, Texas State University
Deb Adeogba, senior media experience manager, Microsoft News

Millie Tran, chief product officer, The Texas Tribune

Aron Pilhofer, James B. Steele Chair in Journalism Innovation, Temple University, and director, News Catalyst
Watch Panel Discussion
Download Transcript
Keynote session: Tom Rosenstiel
Chair: Kathleen McElroy, director, University of Texas at Austin, School of Journalism
Tom Rosenstiel, executive director,American Press Institute
Download Transcript
Brunch Workshop: Seeking New Ideas to Fund Public Interest Media in the U.S. and Globally
Chair: Anya Schiffrin, senior lecturer, Columbia University
Sarabeth Berman, CEO, American Journalism Project

Elizabeth Green, founder and CEO of Chalkbeat, co-founder and co-chair of the board, American Journalism Project

Nishant Lalwani, managing director, Luminate, United Kingdom

Dele Olojede, founder and host, Africa In the World, South Africa
Download Transcript
Online investigations: How journalists are using AI (artificial intelligence) and OSINT (open source intelligence)
Chair: Maria Teresa Ronderos, founder, CLIP (Latin American Center for Investigative Journalism), Colombia
Emilia Díaz-Struck, research editor and Latin America coordinator, ICIJ

Charlotte Godart, open source investigator & trainer, Bellingcat, United Kingdom

John Keefe, adjunct professor, Newmark Graduate School of Journalism at CUNY

Haley Willis, visual investigations reporter, The New York Times
Watch Panel Discussion
Download Transcript
How to fight deepfake and cheapfake videos: The challenges of verifying authenticity of visual content
Chair: Claire Wardle, U.S. director, First Draft
Christina Anagnostopoulos, senior producer, Reuters

Rhona Tarrant, U.S. editor, Storyful

Matthew Wright, director for research, Global Cybersecurity Institute, Rochester Institute of Technology
Watch Panel Discussion
Download Transcript